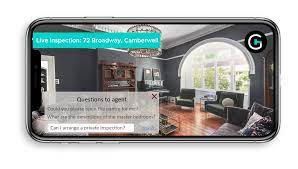 Estate and letting agencies are being encouraged to embrace and utilise livestream viewings, even as society now fully opens up again.
Gavl, a livestream platform which allows agents to stage interactive open house viewing events, is keen to highlight the increased efficiency and potential USP that such viewings can offer.
The Australian software firm launched in the UK a year ago, just a few months after the first national lockdown and the reopening of the property market, with well-known regional agency Nicol & Co the first to use Gavl in the UK.
Since that point, the Midlands estate agent, based in the county of Worcestershire, says it has attracted more than 3,500 potential homebuyers and tenants to watch 500-plus virtual property viewings by using the platform.
Matt Nicol, managing director of the firm, said: "We are now a year on since we started using Gavl livestream at the end of the first lockdown, and in that time we've carried out over 500 livestreams with over 3,550 interested parties joining.
"We continue to see its popularity as the first opportunity to view properties to let or buy without the need to travel."
Sarah Jenkins, lettings manager at Nicol & Co, said Gavl has also revolutionised the way the company practises lettings, allowing it to livestream viewings as part of the initial marketing which has resulted in concrete interest from many prospective renters.
She said: "We take the most suitable applicant to physically view the property, which means we save precious time that was previously spent on multiple viewings.
"That's at least two hours of time saved, per deal, which means our staff can focus more time on providing the service to our clients that they have come to expect. This has made a huge impact, as we're attracting more stock, achieving more lettings, and yet we're able to do all that with the same numbers of staff."
Joel Smith, CEO of Gavl, naturally hopes that livestream viewings are here to stay.
Smith said: "Even as society reopens again, and things get back closer to normal, there should be long-term legacies from the pandemic in terms of a tech-led approach and minimising travel and admin.
"As Nicol & Co and others have found, livestream viewings can work brilliantly and really increase an agency's target audience. It shouldn't just be seen as a temporary solution during a global pandemic, but a long-term trend."
He added: "People have changed their lifestyles and work patterns for good, and with this will come different expectations when it comes to viewing a property. In the first instance, many will want to continue with viewing properties online first before visiting it in person, and this has the added advantage of cutting out those who aren't genuinely interested or are just interested in doing a bit of window-browsing."