An estate agency has been criticised for distributing leaflets asking if the coronavirus pandemic has been a 'blessing in disguise' for the housing market.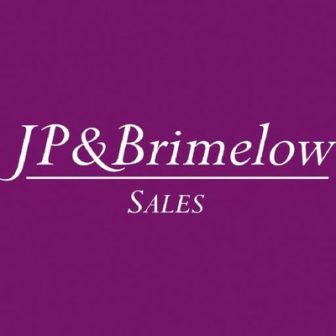 The leaflets, sent out on behalf of JP & Brimelow in Manchester, were posted to residents in Chorlton and Old Trafford yesterday.
The leaflets, which can be viewed below, asked, 'Has Covid been a blessing in disguise for Chorlton and Old Trafford?'
They go on to state that 'the property market has actually fared very well this year', and points out that based on Land Registry data, the price of a detached home in the local area was, at an average of £425,000, '8.4 per cent higher than the same period a year before'.
'Given the year we've had, the change [in average property price] is very impressive indeed,' the flyer added.
Some angry people have taken to social media to vent their fury at the insensitive marketing literature.
Here are just some of the comments posted on social media yesterday:
One commentator wrote: "This leaflet has been distributed to households in South Manchester from the estate agency JP & Brimelow. If you feel that it is as crass and uncaring as I do, please feel free to share this and let them know.
Another added: "Wow, so many tone deaf thoughtless statements in one leaflet."
The negative feedback continued: "WOW you absolutely disgusting people!!!!!! Whoever signed this off needs sacking!!!! Yep it's been a true blessing NOT. Lost loved ones? Had serious mental health problems? Never mind your house is worth 8% more never been so appalled by something ever ! Disgraceful & distasteful….. you should be ashamed."
Another: "How on earth can you use this international tragedy as a sales tool? That's utterly despicable!!"
And finally, "They can't write that – it's terrible. They are the heartless agents of the north. Despite the recent boost for the local housing market, JP & Brimelow's comments are a slap in the face for those who have been affected by this tragedy. It's just unbelievable."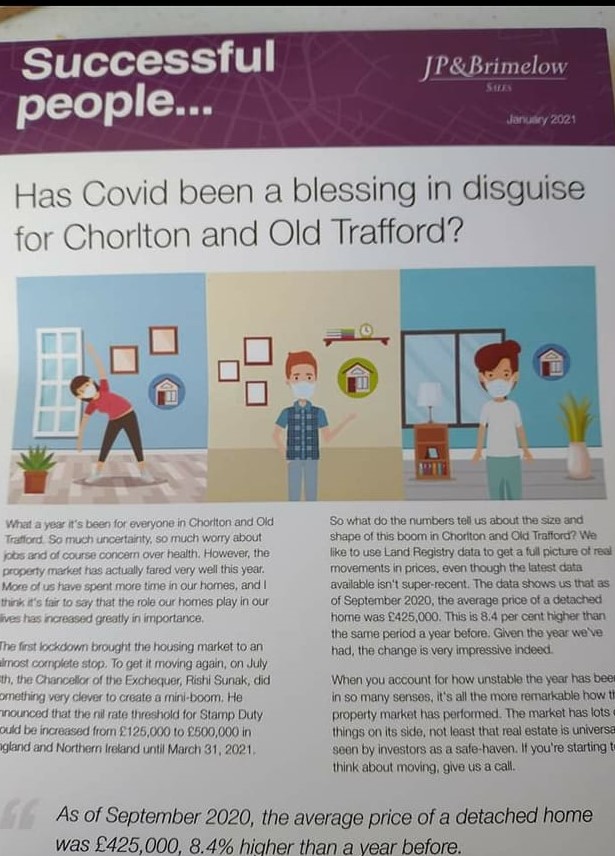 JP & Brimelow has responded to the criticism by issuing an apology on Facebook, which you can view (left).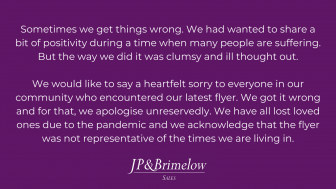 But it has not been particularly well received by users of the social media platform.
Here are just some of the many replies:
One: "Presumably you'll be mailing everyone who received it an apology, or would that cut into your bottom line too much? It costs nothing to apologise on Facebook, let's see something more than a token gesture!"
Two: "What you really mean by this very shallow "apology" is "Oh s…, this is going to cost us a lot of money" which is clearly all you Estate Agents think about. Clearly you're trying to cash in on the pandemic by tempting people to sell to line your pockets but many of your potential customers will have suffered greatly pandemic. I'm sure the average ICU nurse is absultely gleeful at the 7% increase in their property value as they spend every waking hour desperatly trying to save the lives of those who have been made seriously ill by this virus. Tone deaf doesn't get near how insensitive this garbage is. Still, it's totally predictable for an industry that appears to always put profit before people. Generally speaking the biggest bunch of lying crooks going Estate Agents if you ask me. Hope you didn't spend too much of your precious cash on them leaflets
Three: "Donation to a foodbank as a gesture of understanding that this hasn't been a blessing for very many?"
Four: "I don't think an apology cuts it really. How long did it take and how many of the team did this pass through to get from initial idea to printing and distribution? Did not one person flag that the tone of the leaflet was utterly heartless?! You can say you got it wrong, but actually it's incredibly telling about what kind of a company you are and the values you really believe in. In my experience Manchester has a much kinder ethos than this, I don't see how you fit this community as a company."
Five: "JP & Brimelow are nothing but parasites sucking the life out of a community. Disgraceful behaviour. Hope nobody ever does business with them again. Clueless uncaring buffoons."
Six: "Aside from the astonishing lack of empathy in the face of a public health crisis, why would you think that yet more property price rises is a good news story? Especially when so many are losing their jobs or their businesses are going down the pan."
Seven: "The people sat accruing value on their houses are not likely to be the people struggling through this pandemic the most. Stop suggesting you're finding a silver lining or ways to cheer people up, this isn't suggesting anything positive other than more profit for your company. Any chance of an actual apology? For reference, saying 'we had a message but it came out wrong' is not an apology for the message itself."
Eight: "Shock headline…. Estate agents act like heartless morons".