What a year that turned out to be, one well and truly trampled and kicked around by the Four Horsemen of the Apocalypse that's for sure. And where was Nostradamus when we needed him most eh? We surely could have done with the heads up given what unfolded in the form of a global pandemic, prophecies of economic suffocation in the event of a no-deal Brexit, Satan's man on earth Trump and his ongoing mission to divide America, bushfires, floods, locusts, Murder Hornets and the like.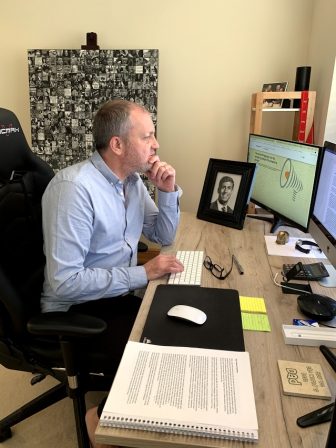 It's been tragic for many and I won't make light of that. A horrendous period of loss, anxiety, anguish and economic despair that has left no-one unchallenged. But this is a property column rather than a Guardian lament and so I'll focus on the subject at hand, if I may…
So as April dawned last year and we were knee deep in a protracted, hard lockdown which included all aspects of the property market, I was probably not alone in wondering how we'd all survive. It felt as if all of those zombie apocalypse movies we'd watched were an education as to how to actually prepare for our future. So much so that the media, in a typical attempt at frightening us all further, revealed that the must-have property accessory for the well-heeled was an underground bunker – complete with cinema room, pool and shooting range. The mainstream media revelled in doom and exaggeration, misdirection and gotcha-scoring and delighted in contributing to sweeping panic. Project fear was not just for Brexit, it seems.
Accordingly, Q2 was less spring and more a thud as agency sales hit the floor together with everyone's optimism. But eventually, one thing in the melee that HM Gov did get right was the realisation that turning the lights out for the housing sector altogether would kill the weakened economy even faster and so, not only did they allow the market to re-open in May and have kept it open ever since, but they boosted its return with a stamp duty tax dodge that even Starbucks would be proud of and which has had an effect similar to dumping OPEC's entire petroleum inventory onto a lava field. The resulting increase in transactions happened fast albeit not quite as fast as the conveyancing industry's heads swivelling from 'There's not enough business to go round, poor us' to 'stop bothering us, we can't cope with all these cases'. Still, it's given them an excuse to take six months to get a case through rather than the previously supersonic three to four months and which now seems just a distant, rose-tinted, romantic memory.
Rishi Sunak, our next Prime Minister, has been the saviour of our profession's fortunes and hence many of us, I'm sure, now display a picture of the great man on our desks as a fitting nod to his greatness. Mine takes pride of place between a signed photo of Margaret Thatcher and my puppy slicer.
But what, we wonder, does 2021 hold? Well, history will record it as the 'post-Covid year' as the various safe (ish) and ultra-profitable vaccines coarse through our collective veins eradicating the lurgy. And it will also be a year unrestrained from the rusty shackles of the EU and where, as will become evident, not only will financial Armageddon not prevail as a consequence of leaving the clutches of Brussels – but instead we will prosper.
Watch as the queues at Primark, Wetherspoons and at McDonalds snake further around the council estates of Britain whilst pent-up demand for spending and going-out takes hold with a vengeance as we emerge from our Netflix comas. In all seriousness, the power of this future spending is best characterised by recent ONS data which shows that UK households saved 29% of their income during lockdown compared to a typical 7% usually. Spending in mid-2020 was over £80 billion down comparatively and that's an awful lot of cash to trickle down still.
Yes, this year will be an annus-lovelius – especially for us property types whom will continue to carry Rishi's flaming torch, igniting related prosperity wherever we go. Heroes, that's what we are. If Covid is a war, we're the ****** SAS.
Now obviously, this cheery tale of optimism would not be complete without some associated forecasts for the coming year on my part. Not just a boring house price punt as you'll disappointingly see elsewhere but some proper predictions. And so I will oblige with particular confidence given that my 2020 forecasts as made in late December 2019 were all pretty much spot on despite the subsequent twelve months being especially unforeseen – except of course to those of us that are truly insightful.
Anyway, in 2021:
Now that Countrywide will merge with Connells, they will shed branches and lots of jobs but will later prosper. The ultimate winners will be Skipton and the Connells management team. The losers will be premises landlords, staff and latecomer shareholders who, although they'll make on the deal at closer to £4 a share, will miss out on the big bucks that will come later from a sorted, well-run, larger agency business with oodles of economies of scale and, hopefully, a more grown-up approach to its brands
Vic Darvey will leave PurpleBricks as shareholders recognise that his promise of '10% market share' is about as likely to transpire as a call back from one of their mythical sales progressors
Nic Budden to quit Foxtons just before another bad set of financial results – 'new blood and a new direction is needed' say shareholders. But the replacement will turn out to be a disappointment and nothing will change except their share price which will continue to shed weight
Rightmove begins to lose agents at pace as the more astute portals successfully battle for agents' hearts and minds
10% of all high street agency branches to close. This, the tip of the iceberg compared to the actual consolidation that will take place over the next three years
Changes are made to Stamp Duty. Again
YOPA and Strike – at least one closes, probably both. HMRC briefly goes offline coping with the applications from shareholders for the enormous £100m losses to be written-off against tax 😉
House prices – a year of two halves with bigger monthly growth in the first half than the second – but prices will nonetheless rise overall by 4% by the end of December year on year. I retire on my winnings from all the bets I made on this outcome together with my 2020 winnings too
NAEA PropertyMark and their numerous CEOs still underwhelm yet also continue to prosper financially, unchallenged by their complacent members and whom, it turns out, simply want a so-called regulator's badge to show to consumers. Any badge will do and so it might as well be this one
easyProperty is sold/given away once again, this time to a guy that owns a corner shop in Slough in exchange for a can of Pepsi and a Dairy Milk. In the inevitable press release, new owner Rajinda explains his plans for 'a game-changer' and attacks high street estate agents, their shiny suits and their broken business model. Stelios Hanji-Ioannou adds that he's 'excited'– at least as excited as the last time the business was sold a few months back
Ok, that's my top ten. Let's see how I do this time round. Have a fantastic and a lucrative year with perhaps less drama than the last one and please, please – #benicetoaconveyancer if you do actually manage to speak to one.
By the way, that Nostradamus geezer predicted the following for 2021:
An asteroid attack
The undead roaming the earth
Solar storms
Rising sea levels
California earthquakes
A cheery fellow, wasn't he? I reckon if he was still alive today his morose demeanour would actually fit in rather well within the comments section below.
All the best.