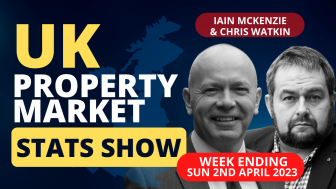 The UK property market continues to show signs of improvement, having just recorded yet another best performing week for house sales since the week before the mini budget in September 2022.
The latest figures show that for the week ending 2 April 2023 (Week 13 of 2023) was the best for sales agreed in the country.
The average number of properties sold STC in the last four weeks is 23,934 per week.
The volume of sale fall throughs increased ever so slightly by 3.49%, from 4,897 last week to 5,068 this week.
Yet because of the increase in sales the fall through 20.42% For comparison, the average for Q1 2023 has been 24.9%, the average for Q4 2022 was 38.7% and long-term seven-year weekly average is 24.26%.
Listings remain strong at 34,549 for the week (Q1 2023 average at 31,116 per week).
This week's special guest is Iain McKenzie, from The Guild of Property Professional, as he joins Chris Watkin to look, analyse and comment on some exciting property stats, numbers and graphs which reflect the latest trends in the UK and regional housing market.
In the last 20 minutes of the show, there is a focus on the Gloucester property market, comparing market share and the effectiveness of all the Gloucester agents.