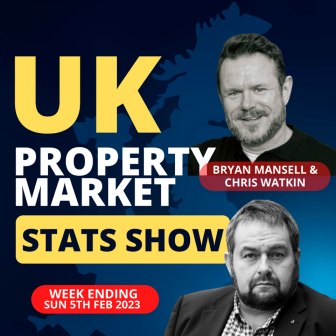 Forget what the doom mongers and clickbait merchants are saying about the UK property market. See what is really happening in the sector.
From the number of properties listed, what sort of properties are selling, the level of fall throughs, price reductions in the UK, this week's video and information contained in it, will give you tools to give the best advice for your vendors and buyers and keep those sales together.
The video also looks at the different UK regional housing markets and gives advice on what you can do to ensure you get the right stock, at the right price, and keep your sales pipelines full.
The weekly 'UK Property Market Stat Show' is presented by Chris Watkin and he is joined by this week's special guest, Bryan Mansell from Gazeal. Both of them love property stats and more importantly what they mean for estate and letting agents.
They look at, and comment on, some interesting stats and graphs – see below – reflecting on the latest trends in the UK and Regional housing market.
Headlines include:
21,748 properties sold (stc) last week in the UK (the highest in 2023)
Sale Fall Thrus reducing (especially the East Midlands, North East and Yorkshire)
Outer London & South East are some of the best performing housing markets in the UK.
Inner London Estate Agents are listing the wrong types of homes, with a 31.9% variance between the average price of what they are listing properties for and what type of properties are selling.
90,520 UK properties sold (stc) so far in 2023 (up to 5th Feb '23), amazing when compared with the 2017 to 2020 average of 92,756
139,006 UK New Listings so far in 2023 (up to 5th Feb '23 / end of Week 5), interesting when compared to the 2017 to 2022 end of Week 5 average of 136,341 listings.
Also, this week's special 'local property market focus' is on the town of Christchurch.