EYE is saddened to report the death on June 5th of 57 year old Chris Stops, who ran Heywoods Estate Agents, in the Newcastle-under-Lyme area, for 30 years.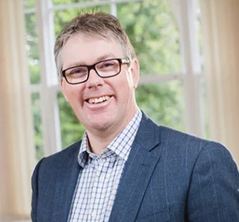 He was diagnosed with pancreatic cancer just five weeks before he died, and married Janine, his partner of 32 years, in a special lockdown ceremony during his illness.
Chris' profile on the company website says:
I acquired Heywoods in 1991, and am proud to have helped it grow in that time, building on the business's heritage to become the best.
My day-to-day job often involves handling out-of-the ordinary situations, which I relish, as well as guiding my excellent team.
I'm a local lad, and when I'm not at Heywoods, I'm on my farm.
"We have sheep, cattle and pigs, which does mean holidays are a pipe-dream while they're producing youngsters, so I content myself with Prosecco and a good film."
A Heywoods spokesman said:
"Chris was a very well-known and well-liked figure in the region's property industry.
"He was a very astute businessman and had a number of business interests alongside the estate agency which was his life-long passion.
"Under Chris' tenure, he helped thousands of people to buy and sell their homes in North Staffordshire; and this year marks three decades since he took over Heywoods."
We offer our condolences to Janine, and Chris' family, colleagues, and friends.