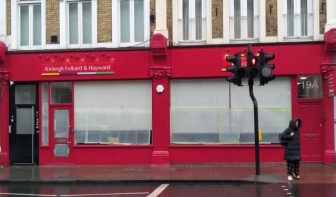 Kinleigh Folkard & Hayward (KFH) will open a new office on the site if the old Camberwell Library building on Camberwell Church Street.
A picture shared on social media reveals that the estate agency has painted the frontage red ahead of its opening, although there is no launch date yet.
The three shop fronts have been boarded-up and unoccupied ever since the library moved to a new building on Camberwell Green in October 2015.
A number of people have reacted positively on social media. One user wrote: "That boarded-up shopfront has blighted Camberwell Church Street for years, so I'm pleased to see it in use again."
Julian Peak, sales director, told EYE: "KFH is delighted to announce the opening of our new office in the old Camberwell library which has been vacant for some time, and we cannot wait to introduce buyers, sellers, tenants and landlords to KFH's exceptional brand proposition of communication, service and results.
"With market-leading branches in Kennington, Clapham and Peckham, Camberwell provides the perfect opportunity to expand the KFH network and join other independently owned businesses in promoting SE5."