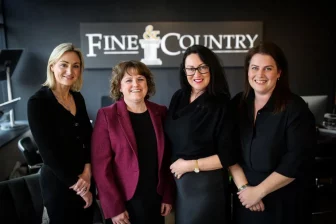 A well-known estate agent is retiring from the industry, after he sold his company.
Nick Miller, headed up Fine & Country North Cumbria with his wife Helen for the last 10 years, but the company has now been purchased by Fine & Country South Scotland.
Helen Miller will stay on at the firm as head of sales at the family-owned business.
The new business will be led by Louisa Thomson whose original family business was Thomson Roddick and Laurie and both her uncle John and her father Stuart Thomson are directors.
Fine & Country South Scotland and North Cumbria is now part of the property business of C&D Auction Marts Limited, which has a well-established auction and land and estate agency presence.
In addition to its Fine & Country offices, the company operates the C&D Rural brand selling residential property, land and farms; letting residential property and delivering a full array of land agency and chartered surveying services.
Fine & Country in northern Cumbria has been developed over the past 10 years from a standing start, after becoming a member company of the brand. The opening of their Carlisle office in 2018 saw an extension of their business.
Nick Miller said: "Bringing together two businesses who are so complementary is quite a result and I am delighted that the future of our talented staff is secure. There is a great future ahead for Louisa, Helen and the team."
Thomson added: "This creates an enviable mix of talents. We are delighted to have acquired such a high quality business and to bring together two outstanding teams of people who are committed to the best client service."