The average rent in the UK increased by 2.9% on last year to hit an average of £974 per calendar month (pcm) in November, the latest data from HomeLet shows.
When London is excluded, the average rent in the UK now stands at £828pcm, up 5.6% year-on-year.
Nine of the 12 regions monitored by HomeLet showed a Y-O-Y increase in rental values between November 2019 and November 2020, with the South West, where rents are up 8.6%, seeing the largest increase for the third month in a row.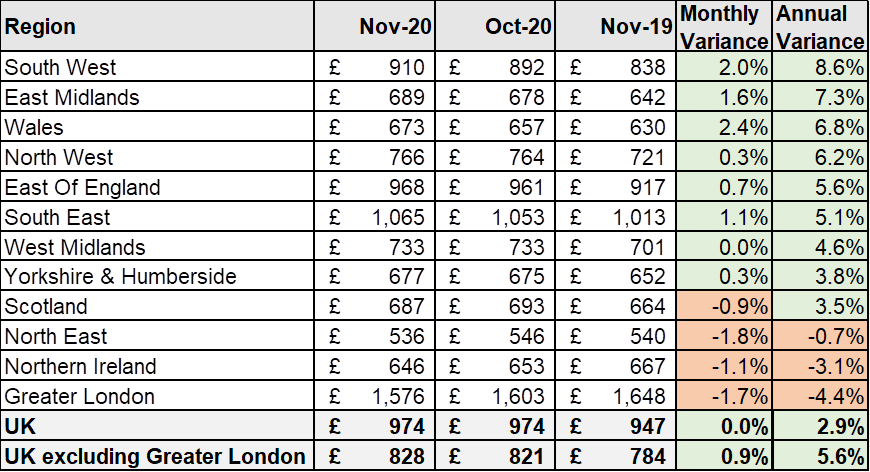 But rents in London continue to fall, down 4.4% between November 2019 and November 2020 – the sixth consecutive monthly decrease in annual variance.
Northern Ireland also shows a continued yearly decrease, with a 3.1% drop between November 2019 and November 2020.
Some 15 of the 21 London borough groupings monitored by HomeLet showed a Y-O-Y decrease in rental values between November 2019 and November 2020.
In November 2020, average rental value in London was £1,576pcm, 90% higher than the rest of the UK.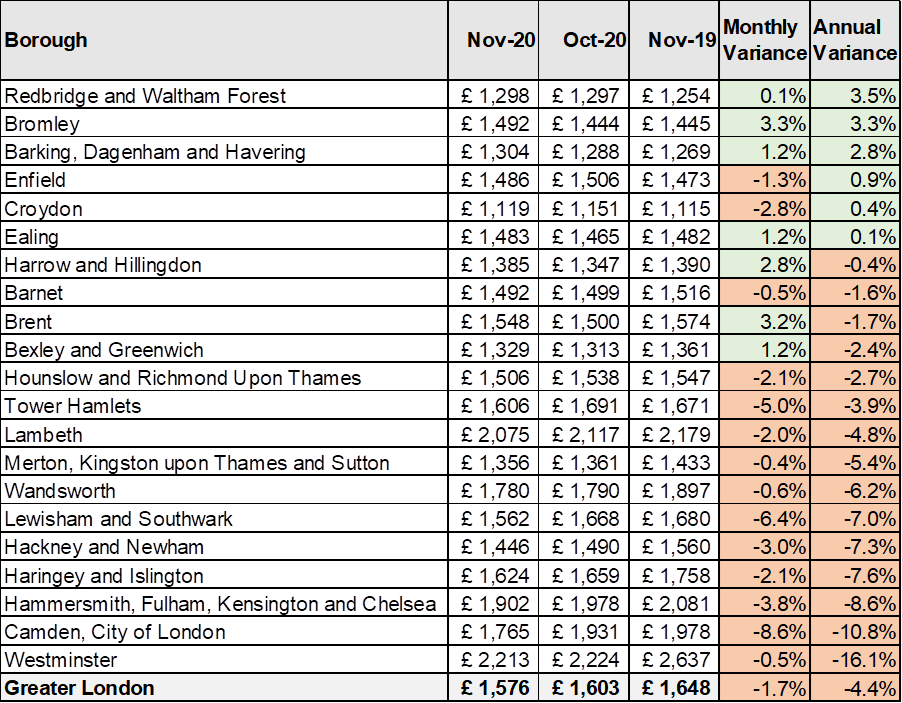 Andy Halstead, HomeLet & Let Alliance chief executive officer, said: "Outside of the capital we're seeing UK rents rise at the highest rate we've ever reported, yet in contrast rents in London are now decreasing at the highest rates that we've ever reported. This is a continuation of a theme that started back when the country exited the first national lockdown, with declines in central London boroughs being the most pronounced.
"Whilst the trend is being driven by the increase in people working from home and tenants looking for properties with extra space, both inside and outside the property, we may also be seeing the continued impact of Brexit on central London.
"Alongside the increase in rental values outside the capital, we'll continue to see confidence grow in property investment in areas such as the North West. We'd also expect that demand for property in less built up areas, which are commutable to urban centres, will continue to increase across the country.
"Whilst the increases in rental values, coupled with the appreciation in property values, continues to make the private rented sector an attractive investment opportunity, there are still risks, particularly in the wake of the ongoing pandemic and the forecasted economic shock.
"Throughout the year many tenants have be impacted emotionally and financially by the pandemic, and in some cases, that's effected their ability to meet their rental commitments. It's exceptionally difficult for all parties involved when this happens, but landlords can access 'rent protection services' through professional letting agents, which ensure the rights of the tenants' are protected, whilst also covering any missed rental payments for the landlord.
"Whilst 2020 has been a challenge, the letting industries response to the Covid-19 pandemic just reiterates the strength and professionalism of the private rented sector. All too often the vital role that letting agents play in the UK housing market is understated, especially when it comes to the consideration of legislation that impacts the sector, which is something that needs to change going forwards."