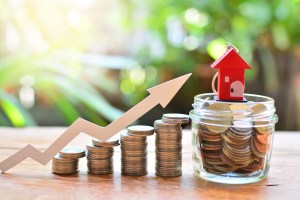 Average house prices are expected to increase by an average of 1.6% over next quarter based on deals already agreed, new figures show.
Deals already agreed between buyers and sellers show that house prices in England and Wales will be higher in Q3 of this year than in Q2, despite rising interest rates and financial pressures facing households, according to analysis of data from over 174,000 conveyancing quotes.
Reallymoving, which carried out the research, captures the price buyers have just agreed to pay for property when they search for conveyancing services on the comparison site, which is used by almost 10% of all home movers in the UK, providing unique insight into expected completed sale prices in three months' time.
| | | | |
| --- | --- | --- | --- |
| Period | Average Price Agreed | Quarterly Change | Annual Change |
| 2022 Q3 | £343,415 | +1.0% | 15.2% |
| 2022 Q4 | £332,609 | -3.2% | 13.1% |
| 2023 Q1 | £323,005 | -3.0% | 7.9% |
| 2023 Q2 | £332,704 | +2.9% | -2.2% |
| 2023 Q3 | £338,003 | +1.6% | -1.6% |
The data indicates that there is still a large contingent of buyers in the market who are highly motivated to move and are willing to swallow higher borrowing costs in order to secure the property they want. Government pressure on lenders to be lenient towards borrowers means as yet there are very few forced sales and a large proportion of sellers are discretionary. If they don't achieve the price they want, they will remove their property from the market rather than agree a price that is substantially below their expectations – forcing buyers who need to move to stretch their budgets.
Rob Houghton, CEO of reallymoving, said: "House prices have not fully recovered from the impact of the mini budget but despite rising mortgage rates, buyers and sellers have continued to agree deals at higher prices. We have seen a rise in downsizer activity over the last three months, now accounting for 29% of all home moves, many of whom will be relatively insulated from higher borrowing costs.
"If we begin to see more forced, or at least highly motivated, sales as growing numbers of households come to the end of their fixed rate deals, price falls may follow in the latter part of this year – but so far we're not seeing much sign of sellers being forced to accept lower offers.
"Any buyer actively house hunting right now should ensure they have a mortgage offer in principle and have factored in the possibility that in the short term at least, the value of any property they buy may fall. Ideally home movers, particularly those with small deposits, should plan to stay in their property for at least five years so they can ride out any market fluctuations."