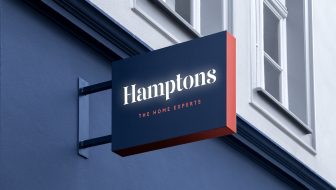 So far, 2022 has been a relatively strong year for the housing market, with property prices set to rise 5% year-on-year in Q4, according to Hamptons, while 1.25m transactions will have taken place this year in Great Britain, But there are growing signs that residential sales will slow thereafter.
Hamptons says that 2023 is harder to predict and what happens to interest rates is key. The company projects that the base rate is likely to peak at around 2.5% in early 2023, before dropping slightly towards the end of the year or early in 2024.
Given the pressure on household incomes, Hamptons forecast average prices to flatline – remain unchanged – across Great Britain in Q4 2023.  If rates rise further than the estate agency anticipate, there is a stronger likelihood that prices will fall.
Transactions will bear the brunt of the downturn in 2023 as households sit tight. The drop in sales will stem from mortgaged buyers, particularly first-time buyers. Hamptons expect to see transactions return to 2013/2014 levels and are forecasting 1.1m completions across Great Britain in 2023.
2024 though, will be a year of recovery. While a general election is on the cards, Hamptons also anticipate a degree of pent-up demand from 2023 and falling interest rates. The company think property prices will rise 2% by Q4 2024 with London leading the way.  Transactions should return to 1.2m across Great Britain in 2024, the firm said.
Hamptons believe that 2025 will mark the beginning of a new cycle as the base rate returns to its new normal, likely to be around 1.75%. The company forecast prices to rise 3% across Great Britain, with London outperforming other regions at 5%. Transactions are also set to bounce back to 1.3m, surpassing the pre-Covid average.
Over the next four years, Hamptons think prime central London will see the strongest price growth at 15.5%. The East of England (12.0%) and South East (11.5%) are expected to follow as they more closely track London with flexible working tying the regions closer together.
Rents are set to outperform house prices over the next four years.  Despite affordability issues for tenants, rental growth will progressively reflect the increasingly high-cost environment faced by landlords. Hamptons forecast that rents will rise 5.0% in 2023 and 2024 across Great Britain.
Aneisha Beveridge, head of research at Hamptons, commented: "The housing market has outperformed our expectations once again in 2022, but with a cocktail of risks on the horizon, growth is likely to stall next year.  Financial pressures are raining down on households as inflation bites and mortgage rates rise.   And it's unlikely we've seen the worst of it yet, with rates expected to peak at the beginning of 2023.  This means price growth in the years running up to 2025 will add up to 2021 levels.
"All eyes are on interest rates as this will be the key determinant of house price growth in the coming years.  Given many mortgaged homeowners won't have witnessed interest rate rises, it will take time for them to adjust.  While it's likely that the base rate will remain lower than it has in the past, higher levels of mortgage debt will magnify the impact of even small rises.  If mortgage rates surpass the 5% mark, there's a much stronger likelihood that house prices will fall.
"With more stringent affordability testing in place since the financial crash and a record share of outright homeowners, we're likely to see fewer repossessions and forced sales which were a key driver of house price falls in 2008.  Low-yielding landlords are the group most likely to sell up as they come under pressure from rising mortgage costs and new legislation.
"Longer-term, we expect the market to return to its traditional cycle.  Price growth will begin to recover in 2024, with London leading the way as a new cycle dawns in 2025.  However, stretched affordability will mean we're likely to see considerably less price growth than in the past."