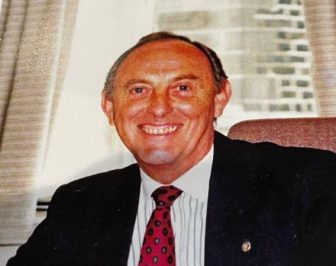 The founder of a Pendle-wide estate agency Alexander Taylforth has died at the age of 88.
Born in Barrowford in 1934, the only child of Robert and Margaret Taylforth, the young Alexander attended Rainhall Road Primary School in Barnoldswick before moving on to Ermysted's Grammar School in Skipton.
After leaving school he trained as a surveyor before going on to study in Bradford where he obtained his civil engineer qualifications (MICE).
After several years, in 1967, he moved back to the West Craven area where he decided to open his first estate agency business at 8 Church Street, Barnoldswick.
He subsequently went on to build the Taylforth brand and to open several more branches around the Burnley and Pendle areas.
The firm became so successful that it was approached by national estate agency Black Horse Entwistle Green and in the mid 1980s, Taylforth opted to sell the business.
However, in 1992 he decided along with his son Mark to open a new shop in Barnoldswick bringing back the Taylforth name to the town once more.
The estate agency is still in the town in Church Street, where it remains a thriving business.
After retiring in the middle to late 1990s, Taylforth enjoyed spending many hours on the golf course both at the Ghyll Golf Club in Barnoldswick and abroad.
During his life he was an active member of both the Barnoldswick and Earby Round Table and the Barnoldswick and Earby Rotary Club.
He was one of several members of the Round Table who instigated the Barnoldswick Gala, an event that ran successfully for many years until the round table folded in 2003.
He was also a justice of the peace (JP) in the 1980s, sitting as a magistrate in Reedley.
Taylforth, who died on 24 February at Airedale Hospital, Steeton, is survived by his wife Margaret; children, Janet and Mark, grandchildren and great grandchildren.
His funeral took place on 21 March at Ghyll Church, Barnoldswick.
During the funeral it was made apparent he was a man who was referred to as being 'in the background quietly getting things done'. Many of his friends and colleagues described him as a 'true gentleman'.