The listing of this property in Bristol, on with Strike for offers in the region of £800,000, would comfortably win the EYE 'Property Description of the Year' award, were such a thing to exist (come to think of it, we might just run one).
It is supposition on our part but it looks very much as if the vendor decided that the agent could not possibly do justice to the house and therefore decided to write it themselves. As for the photography, we are not sure who is responsible…
As the length of the description would give War & Peace a run for its money, and that there are a whopping 124 images – some of which we really cannot quite get a handle on – there is only space here to give you some edited highlights. If the listing stays up you can find the link at the end of the story. Be warned, there is an awful lot of green…
Oh, and we are rather intrigued by the Strike image at the top right of the page on Rightmove. Is the chap spoiling for a fight? Does it mean they punch above their weight? Do they box clever with a buyer? Someone please tell us what the pugilistic pose is all about.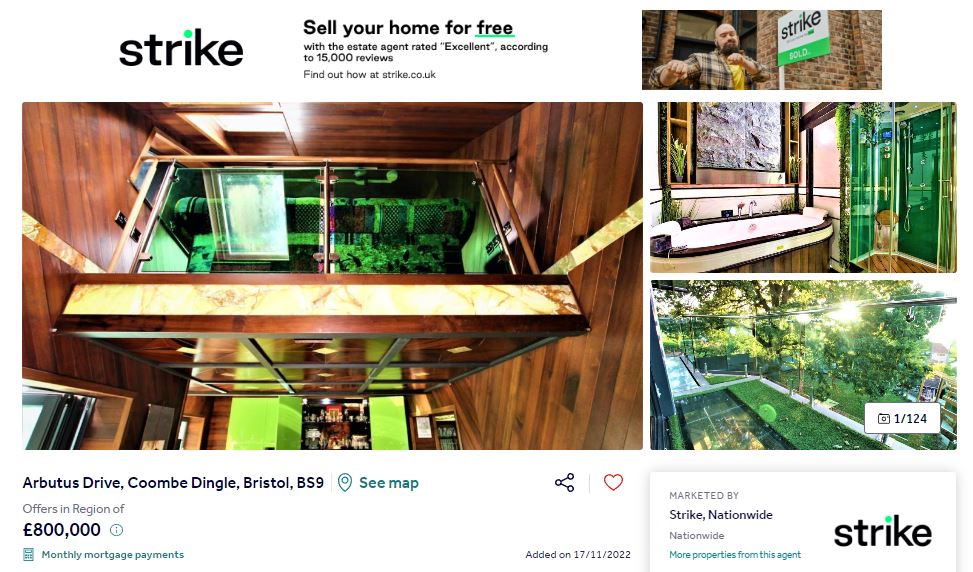 Extracts from the owner's words describing the property:
Hyper-Personalized for unique and special individuals who appreciate creative celebration, God, culture oneness and uniqueness. Probably Bristol's most unique home.
A pulchritudinous, grandiose detailed property which has been magnificently crafted over 5 years in natural materials, built over 3 floors with surprising modern eco credentials.
A property and living space inspired from God, love travel, adventure, engineering, manufacturing, creative expression and craftsmanship. A taste of Colonial Caribbean, European, Chinese and Asian with strong period influences of Art Nouveau and Art Deco. This is one of Bristol's most crafted homes of recent times; it has been created using only the highest quality craftsmen, natural and unique woods, stone/minerals, and materials to create a natural and luxurious textured finish, feel and look, that is like being in another world.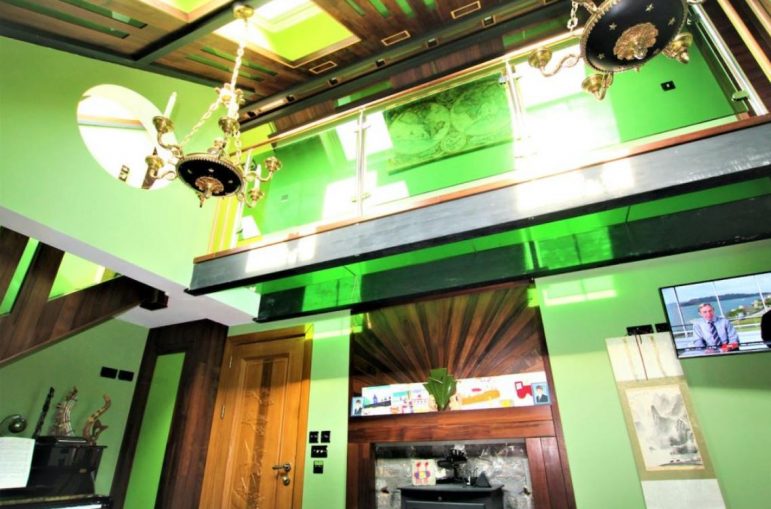 The house was conceived 10 years ago, almost to this very moment in time, and it is probably only now ready to be fully appreciated, by society today, as to what it is all about. Much of what is within this property is either unaffordable, unobtainable, or both now due to world and economic circumstances. Labour costs for a Master Craftsmen – German trained Joiner was £140.00 per day, that same craftsman is today £500.00 per day.
You see in this property, years of his meticulous and Zen work. 10's of thousands of hours it has taken to make and build this most unique and exquisite property. We lost our way for respecting true genius crafts people in trades, like they once were in a period of a respected guild.
This property is a testament to human genius creativity and a celebration to the incredible natural materials of divine mother earth, it is beyond comparable.
If you feel special, a unique individual or individuals with an appreciation of creative expression and craftsmanship, this is a timeless home that never feels "boring" and is a space and place, which constantly inspires you.
It is difficult to describe this place and how perfect it is. Each bathroom is a place where you can spend the whole day. The design is fantastic. Massaging chairs make a very professional massage. Lots of small cosy details. Belmont Penthouse Apartment is unforgettable with very positive vibes.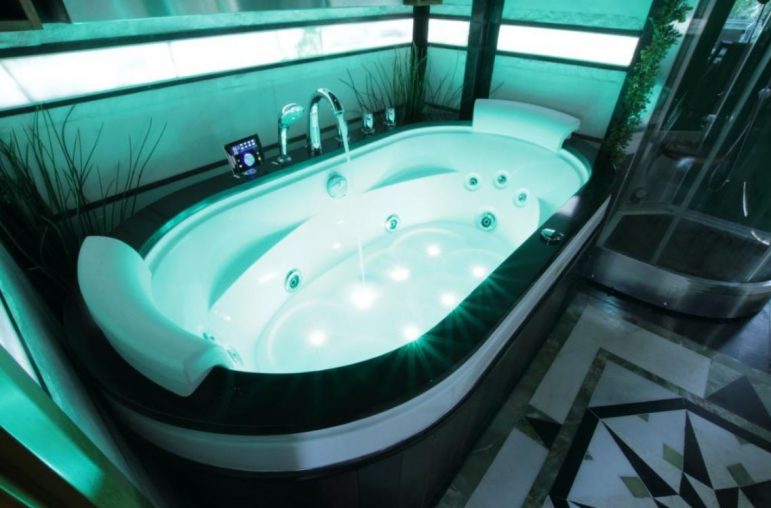 All painted in Pantone 16-0237 Foliage – Farrow and Balls 2022 colour of the year "The bold use of this one colour also creates an exceptional background for art, or for furniture. Why the sudden surge in the popularity of verdant hues? Different colours have the power to evoke a range of emotions and can affect your heart rate, blood pressure, and breathing. Green in particular is often associated with healing, tranquility, hope, stability, optimism, and harmony—so it's unsurprising that the demand for the calming shade has soared in the wake of one of the most tumultuous years in history 2020/2021″ clearly with more to come.
"Green is known to have a soothing, refreshing effect, especially in interiors—which is so important as we emerge from the pandemic," says colour expert Leatrice Eiseman, the executive director of the Pantone Color Institute. "It is Mother Nature's most ubiquitous neutral color, working in tandem with every other color in the spectrum."
The property is currently decorated in one of the 2022 paint colours of the year according to the whole industry and even psychologists. Farrow & Ball, Dulux, Realhomes, Country Living, Better Homes and Gardens (BHG), Pantone, Lushome, Houzz to name just a few that have said this is, this and next year's colour.