Using on-market data from its software, Brief Your Market has carried out a five-month trend analysis  – which considers the combined activity of listings on Rightmove and Zoopla – to provide a summary of the impact that COVID -19 has had on fall-throughs and withdrawals.
Fall-through is where the status went to SSTC and then back to For Sale.
Withdrawn is where the property has gone from active to inactive and not via sstc.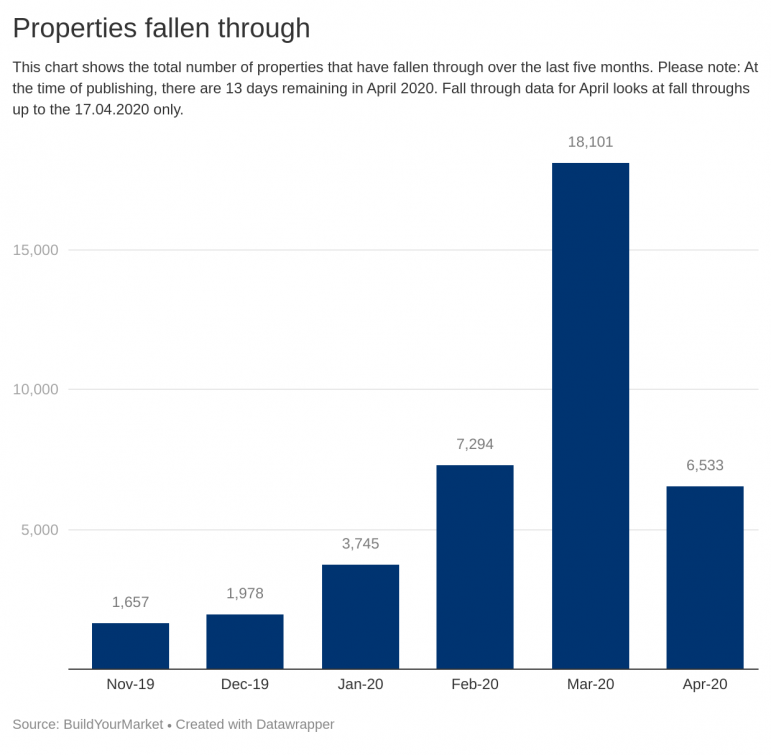 The fall-through figures show the  impact of the pandemic on the market
In November 2019, there were a total of 1,657 fall throughs.
December 2019 1,978.
January 2020 3,745.
February 2020 7,294.
March 2020 recorded a total of 18,101 fall throughs; 3,427 more than the total number of the previous four months combined.
As COVID-19 sent the nation into lockdown on the 23rd March 2020, the peak day for fall-throughs landed on the 26th March, with 3,915 fall throughs recorded in a single day.
At 17th April there has been 6,533 fall throughs for the month.
The top 10 most impacted areas for fall-throughs since the UK went into lockdown have been: BN1, BN2, BN3 (Brighton), LA1 (Lancashire), CR0 (Croydon), NG3 (Nottingham), BH25 (New Milton, Hampshire), LU2 (Luton), NN8 (Wellingborough) and BS16 (Bristol).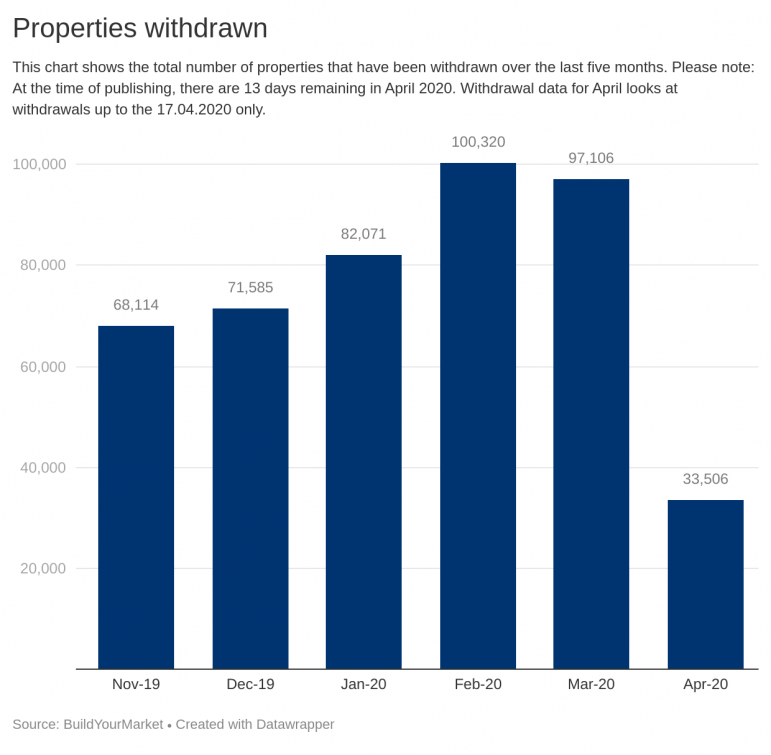 Withdrawals of properties from the market:
November 2019 68,144
December 2019 71,585
January 2020 82,071
February 2020 100,320
March 2020 97,106
In March the peak day for withdrawals came on the 19th March, with 14,100 properties being withdrawn in a single day.
To the 17th April 33,506
The peak day for the month so far came on April 1st, with 9,929 properties being withdrawn.
Chief Commercial Officer of Brief Your Market, Richard Combellack,  said:
"This makes for hard reading, but I wouldn't say that this is all doom and gloom.
"It represents a massive opportunity in the marketplace.
"These vendors had every intention of selling and probably still do.
"Right now, it's going to be about how those sales are orchestrated when the lockdown is lifted."
Readers may like to know that Brief Your Market, in partnership with Yomdel, has some free webinars running.
The remaining sessions this week:
THURSDAY 23RD APRIL 2020 – 3.00PM
Using the power of social media and video in Lockdown with Chris Watkin
REGISTER  HERE
FRIDAY 24TH APRIL 2020 – 11.00AM
Generating revenue in the next six months from your marketing in Lockdown
REGISTER HERE