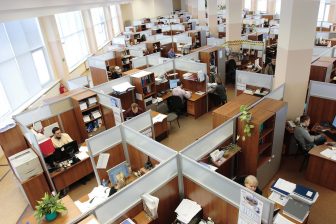 This may not be of use or interest to smaller estate agency operations (and the idea of anonymous desk monitoring leaves us at EYE rather cold) but for those who operate large offices and who are considering how future working practices are evolving, there are some potentials in how tech can help with the safety and usage of space.
Abintra, a firm that pioneered the use of desk sensors for office monitoring, reports rising demand for occupancy technology since Covid turbocharged the trend for hotdesking and flexible hours.
Director Tony Booty says: "Office managers are perplexed about how to respond to the changing office environment, and they are coming to us looking for tools to manage it."
Those tools fall into three broad categories.
1. Office utilisation sensors and software reveal exactly how desk space and meeting areas are being used. Abintra typically uses passive infrared hardware to gather data anonymously, which it then crunches through powerful software.
2. Scheduling systems allow individuals and team leaders to book desks and meeting spaces. When this is hooked up with the usage data, it lets managers to check actual use against planned use to identify phantom bookings and wasted space.
3. Sensors can also measure the office environment. Abintra's latest hardware, launched two years ago, records temperature, light and noise as well as CO2. High levels of CO2 are a good proxy for stale air that affects wellbeing and productivity as well as potentially harbouring coronavirus and other pathogens.
"Office managers see the need for monitoring occupancy levels," says Booty. "They see a need because it seems certain that some form of flexible working is going to be the new normal in most offices.
"They know they have too much space, but they are not sure how much is being wasted or how to deal with the space they are going to keep, especially as the way the office is used is likely to continue to change in the years ahead."
"While managers may feel some urgency to tackle the issue, it's important to take time to evaluate the tech on offer. There are pitfalls including systems that can't grow or move with you, sensors that are overpriced or not up to the job, or camera and phone-based surveillance that may rankle with employees and infringe GDPR rules."
"It's also really important for your staff to ensure you have scheduling software that is fit for purpose when people come in, and that you provide a healthy office environment where people are safe and can be productive."