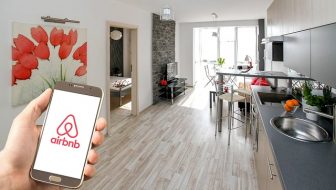 Second home owners face higher bills that could run to more than £1,000 a year under fresh government plans announced this morning to close a tax loophole but that is not enough to deter people from investing in the short let's sector, according to a countryside charity.
Michael Gove, the Levelling up Secretary, has announced new rules that will mean From April 2023 second home owners can only register for business rates if they can prove they let the properties for at least 70 days in a year.
Currently, they are permitted to pay business rates, which are cheaper than council tax, if they make their property available for letting for 140 days in a coming year.
Housing Secretary Michael Gove commented: "The government backs small businesses, including responsible short-term letting, which attracts tourists and brings significant investment to local communities.
"However, we will not stand by and allow people in privileged positions to abuse the system by unfairly claiming tax relief and leaving local people counting the cost.
"The action we are taking will create a fairer system, ensuring that second homeowners are contributing their share to the local services they benefit from."
However, the CPRE, the countryside charity, is calling for more to be done to deter people from investing in the short-let sector.
Crispin Truman, chief executive of CPRE, the countryside charity, said: "While we support plans to stop people abusing a holiday home tax loophole, these proposals don't go far enough. There is a rapidly growing housing crisis across rural England and the government needs to get a grip of it, fast. Ministers must do much more to meet the affordable housing needs of rural communities.
"We've lost 150,000 private rented homes, with the boom in Airbnb-style lets clearly contributing to that loss. The dip in available rentals is having a devastating impact on our already struggling rural communities. We're seeing families stranded on social housing waiting lists while perfectly good properties sit empty much of the year. Their fury is entirely understandable."
The CPRE claims that the explosion in holiday lets is strangling rural communities.
It points out that 148,000 homes that could otherwise house local families were available on Airbnb style lets in September 2021. This compares to 176,000 rural families on social housing waiting lists.
The CPRE, the countryside charity, is calling for tighter controls on second home ownership, including higher council tax on second homes and the requirement for short term lets to have planning permission. Additionally, the definition of 'affordable' must be changed in national planning policy, with rents being tied to local incomes rather than market prices. To level up our rural communities, changes to planning law and policy should be committed to in the government's forthcoming Planning Bill, requiring at least one new genuinely affordable home for every market home built.
In many areas social housing waiting lists could be drastically reduced or even eliminated if the number of properties advertised for short term let were available for local families instead, claims CPRE.
Analysis by the countryside charity shows that in Cornwall, which saw short-term listings grow 661% in the five years to September 2021, there are roughly 15,000 families on social housing waiting lists and the same number of properties being marketed as holiday lets.
In South Lakeland, which saw a 1,231% increase in short term listings between 2016-20, roughly half the families in need of social housing could be accommodated in properties exclusively available for holiday rentals;
In Cumbria, a 4% decline in the number of privately rented properties coincided with a 14% increase in families on social housing waiting lists since 2016; and
In Devon, short term lets appear to be worsening an existing housing crisis, with nearly 4,000 homes taken out of private rent and 11,000 added to short term listings since 2016.
Truman continued: "Across our most traditional rural communities, from the beaches of Cornwall to the lakes of Cumbria, hard working people are suffering. They will not easily forgive a government that promised to level them up if it leaves them falling through the cracks of a broken system.
"It's clear the government needs to act fast to avert a growing housing crisis. With the cost of living set to hammer people's finances in the coming year, this is a problem that's quickly getting out of hand. There simply has to be a government response to the fact that our rural housing supply is disappearing into an unregulated short-term rentals market that didn't even exist six years ago.
"Ministers must introduce tighter controls on second home ownership, including higher council tax on second homes and the requirement for short-term lets to have planning permission."