Josh Rayner's second temperature check on the thoughts of the estate agency industry was carried out straddling a week in which agents were at first incarcerated and then unleashed by the Housing Secretary.
Therefore, it was expected there would be a change in the attitude of negotiators, branch managers and listers and, perhaps, more optimism.
But those polled have dug-in their heels and the enthusiasm for a change of role and a different model of working remains at over 60% of agents.
In fact 64% favour either working from home, moving to self-employed, or leaving the industry altogether.
Rayner also analysed the respondents by job role and whether they represented an independent agent, a corporate or online.
The results make for interesting reading.
Of Branch Managers, more from the independent sector than the corporate sector feel unsure about their role or are concerned about job security.
Rayner thinks this is surprising given the close attention that corporates have had of late with regard to viability and 61% independents vs 58% corporates feel this way.
Perhaps unsurprisingly, the group that most feel that nothing has changed in sentiment terms, are business owners.
But the second highest group here are branch managers in the independent sector (30%) albeit that corporate branch managers are not that far behind.
66% of independent valuers are concerned about job security.
The largest section of the industry that want to quit altogether are negotiators in the corporate world.
In summary, Rayner says that the sector that seems most ill at ease is the online sector (82%).
The most worried about job security are independent valuers.
Yet at a senior level, the independent element of our industry seems most content that it's business as usual.
Typically, valuers feel less secure in their jobs than negs in either sector.
Josh Rayner commented:
"So the overall mood of the industry hasn't changed much in the past two weeks in spite of lots happening; yet it should still be seen as a concern that 64% of the industry are either feeling differently about the role they want, are exiting the sector or are worried about their job security.
"But 50% more people have decided they want to leave the industry since we took the first poll two weeks ago'.
"What's fascinating is the difference in sentiment between seniority of role and the type of business that each is employed within.
"If I were an independent estate agency boss I would certainly take note that the corporates are seemingly set to hold on to their valuers and negotiators more ably than they themselves may do.
"You have to ask yourself why that might be?"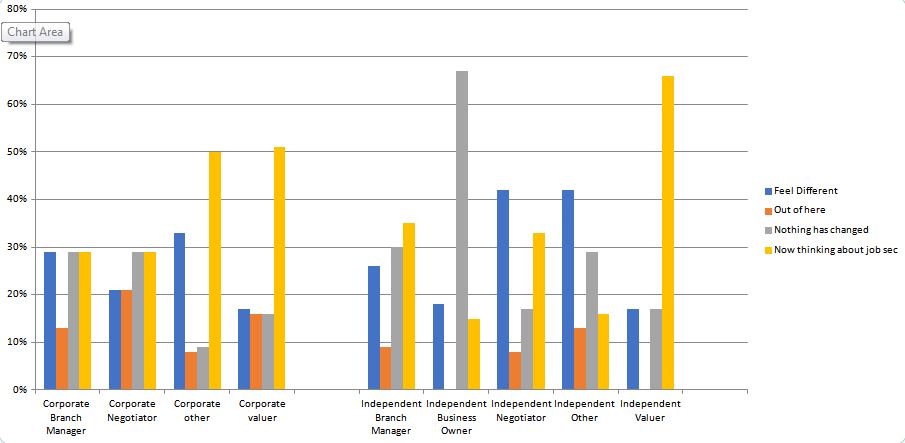 EYE understands there were 5,027 'total survey engagements'