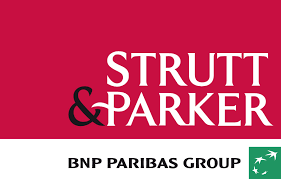 Despite the economic constraints of rising costs of living, inflation, and an increased interest rate, underlined by global geopolitical uncertainty, UK house prices remain on course to rise by up to 7% this year, according to Strutt & Parker's.
The company expects growth to be led by prime central London, where prices are predicted to rise by up to 10%.
Strutt & Parker's latest five-year forecast shows that UK house prices are expected to increase between 20% and 30%, and prime central London of between 20% and 35%.
When it comes to prime central London, following five-years of declines or stagnant growth, Strutt & Parker's latest housing market forecast also shows that the region's rental market is set to grow by up to 10% in 2022, in response to soaring demand from tenants against a shortage of available properties.
In Q1 2022, the average rent in PCL rose by 3.3%, outstripping the rate of growth in the sales market and marking the fourth consecutive quarter of upward rises. Annual growth reached 10.7% to Q1 2022. This has been driven by a growing supply-side shortage; transactions have suffered -42% year-on-year growth for the second successive quarter.
Rents have increased most significantly in the one and two bedroom sector of the market, the same sector most heavily impacted by rent reductions during the pandemic. With international movement returning, and a lack of supply across all brackets, some homes are achieving up to 25% higher rents today compared with the start of 2021.
Prime central London lettings five year forecast is maintained at a rise of between 15% and 25%.
Louis Harding, head of London Agency at Strutt & Parker, commented: "The PCL rental market is facing an even more acute shortage than the sales market. This is a symptom of tenants renewing contracts in the wake of a lack of suitable sales stock, and a depleted level of property re-entering the lettings cycle.
"We have also seen a wave of would-be tenants returning to the city as pandemic restrictions have lifted, while some buyers are biding their time in the rental market to see how the current economic situation may affect the sales market, both adding further pressure. Bidding wars for the best rental homes are now common place, rather than a rarity.
"Two years ago landlords were making bold concessions to retain and attract tenants including rent reductions and generous break clauses. Today it's the tenants making concessions: committing to longer contracts and, in some instances, offering significant amounts of rent up front."
Strutt & Parker's Property Outlook
Area
2022
5 Yrs to 2026
Downside Risk
Best Case
Downside Risk
Best Case
Sales
Prime Central London
5%
10%
20%
35%
UK
2%
7%
20%
30%
Lettings
Prime Central London
5%
10%
15%
25%