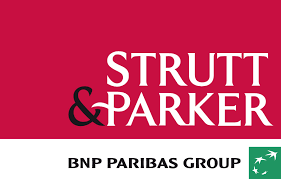 With almost two months of the year now past, Strutt & Parker has maintained its previous-quarter prediction of 7% best-case scenario growth in 2022 for the UK and 10% in London..
Strutt & Parker has maintained its UK house price forecast for 2022, despite new pressures presented by recent interest rate rises and inflation. The estate agency's latest forecast shows UK property prices remain on course to grow by up to 7% and up to 10% for prime central London (PCL) as demand from buyers remains strong in a housing market with ongoing supply constraints.
Guy Robinson, head of residential at Strutt & Parker, said:   "Despite the current challenges in the market, the sector remains very robust and we are optimistic for 2022 as we expect to see a very competitive market this year. The impact of the challenges are likely to unfortunately impact aspiring first time buyers rather than current home owners. With demand continuing to outstrip supply, the extreme shortage of stock will sustain further house price growth.
"One of the main drivers of demand is the continued shift in individuals' requirements of homes and locations. As a result, the regional housing market has seen strong price growth, driven by large demand and low stock availability in the regions.  Commuter towns are retaining their popularity but with many employers still working to hybrid models, this is opening up more buying options beyond traditional high employment areas."
For prime central London, Strutt & Parker's sales index data for Q4 2021 showed record quarter on quarter growth of 0.7% and year-on-year growth to 1.8%.
Vanessa Hale, head of residential research and insights at Strutt & Parker, commented: "The current economic outlook is optimistic for 2022. The rises in interest and inflation rates are unlikely to have an immediate impact on house prices as we have not seen a reversal in the behavioural shifts seen as a result of the pandemic. Therefore the shortage of stock and high demand will to have an impact on house price growth and our forecast reflects this."