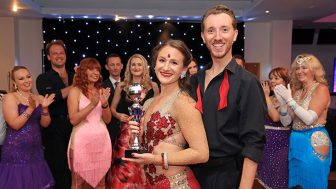 Property professionals, including some familiar faces in estate agency, came together at The Epsom Downs Racecourse last week for the annual Agents Giving Charity Ball.
The event celebrated the outstanding fundraising efforts of the property industry. It also showcased the property industry's dancing talent with the Strictly Agents Dancing Competition.
The Strictly Agents Dancers were Kristjan Byfield Base Property and The Depositary, Katy Poore Thomas Morris, Danielle Lanthier Paramount, Suzanna Mavity Acaboom, Natasha Sugarman Drivers & Norris, Manuela Daniels Thomas Morris, Bernadette Sheridan PayProp, Jason Kelly X1 Lettings, John Young Drivers & Norris and Robert May Rummage Property.
The winner of the Agents Giving glitterball trophy was Danielle Lanthier from Paramount.  As well as the prestigious glitterball Danielle was also awarded £250 prize money.
Lanthier said: "I'm thrilled and humbled to have won Agents do Strictly – I still can't believe it! It was a rollercoaster of an experience and I'm so thankful to have been a part of it. The win is great, but I think the best thing I've taken out of this is having faced the fear of getting up in front of hundreds of people to perform.  Now that it's done – I'd do it again in a heartbeat."
The Fundraising Champions winners were also revealed with Paramount and Alan Batt Estate Agents winning the joint Best Company Fundraising.
Paramount and Dawsons were named joint winners for Best Team Fundraising, the Best Individual Fundraising award title was shared by Naomi Webborn, Dawsons, and Suzanna Mavity, Acaboom, while Pygott & Crone were crowned Best Social Media Campaign.
Best Community Fundraising was awarded to Fife Properties and Thomas Morris. Best Fundraising Campaign was handed to Stephen J Brown Consultancy for his ongoing computers for school's campaign.
X1 Lettings were triumphant in the Best Creative category and Luke St Clair, Knightsbridge Estates, took home the award for Special Fundraising.
Suppliers to the industry were also recognized with Estate Agent Content being successful in the Best Industry Supplier Fundraising category, a special industry award for Outstanding Contribution was won by Katy Poore of Thomas Morris, while the Corporate Social Responsibility award was won by Thomas Morris.
David Newnes, chairman of Agents Giving, comments: "The Agents Giving Ball was an opportunity for the industry to come together for a night of glamour and celebration.  We would like to thank our sponsors, supporters, donators, partners, and guests for a wonderful evening and especially our Strictly Agents Dancers who were truly sensational."