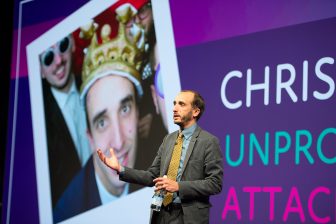 After a three-year hiatus caused by the Covid pandemic, Spicerhaart's annual conference and awards ceremony returned with a two-day event in Milton Keynes.
The company's ELEVATE Summit, held at the MK Dons Arena in Milton Keynes, celebrated its top performers across the business – but with a different tone to this year's proceedings.
"We recognise that life is particularly challenging for many people at the moment and wanted our event to be respectful and have a warm, family feel," said Antony Lark, Group Managing Director.
"We therefore invited a number of our own colleagues to share their amazing stories of success, how they'd triumphed over adversity or taken a leap of faith to do something different.
"It meant the event was incredibly emotional and it was so spiriting to see colleagues in the audience willing the guest speakers to do well and supporting them as they told their stories."
Among the speakers was Chris Naya, an executive mortgage and protection adviser with Spicerhaart's Just Mortgages, who scooped one of the top mortgage broker awards.
Naya had been left for dead after being clubbed round the head with a heavy object after a random attack on a night out five years ago. He was left with a fractured skull in four places and a metal plate in his head. His attacker has never been found.
Everyone was visibly moved as an emotional colleague explained how he found him lying on the ground. Naya's wife Jess, via video, told of the terrifying moment when the police knocked at the door to tell her that her husband was lying in hospital. She shared the horror of his coma and the long recovery that followed. He could not even recognise his children and had to relearn many things including how to walk and talk.
Despite the terrible headaches that still plague him from his head injuries, as well as hearing loss, Naya managed to rebuild his life and his career, supported by his colleagues at Spicerhaart. As he said: "Strive to improve through adversities. Don't let it break you, let it make you."
The event featured 14 speakers from within the business, as well as a gala dinner and plenty of entertainment.
Spicerhaart CEO Paul Smith said: "Our ELEVATE summit gave us the opportunity to bring our top performers together from across the company and to focus on our new ELEVATE scheme, which focuses on skills, careers and wellbeing.
"It highlights what people can achieve when they are motivated to succeed and gives us an opportunity to incentivise and reward those who do well, whether it was our recent ski trip to Morzine or announcing next year's trip to Ibiza, or financial rewards for success.
"It's also about recognising those who continually go above and beyond, such as Lesley Miller, the Operations Manager for our Nexus contact centre. It gave us great pride to bring her on stage and for our Chairman John Spence CBE to present her with a Special Achievement Award, which she wasn't expecting, and then announce that she had been promoted to Director of Nexus."