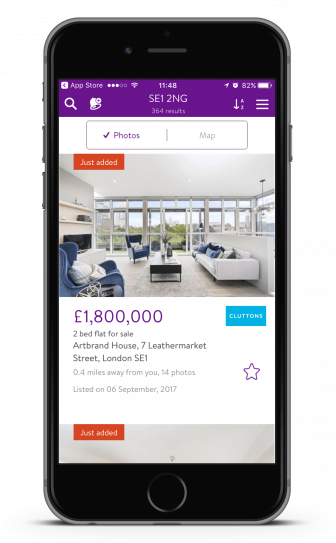 The multi-touch user interface on most smartphones are so easy-to-use that it is unsurprising to learn that a quarter of estate agents use their telephone devices to help market properties for sale.
Giraffe360 has revealed that almost a quarter are still using smartphones to capture media, but the company says that compiling property listing photographs using the device's camera is not the best option.
A survey of almost 3,000 UK homeowners commissioned by Giraffe360 found that one in 10 homeowners rated their agent's photography as mediocre, poor or awful, with 41% stating it was merely acceptable and just 48% stating it was to a professional standard.
The study also revealed that some agents are taking days, even weeks, to visit a home and get it advertised on the major property portals.
According to the poll, just 15% of estate agents visited a property to compile listing photos and floorplans within a day of the seller instructing them to sell their home.
Some 43% of sellers did receive a visit within two days, however, for 35% it took between three days and a week, with 6% stating it took over a week.
Giraffe360 says that the benefit to the smartphone approach to property photography should be the speed at which an agent can get the listing live online and in front of thousands of potential buyers.
However, when asked how quickly their property was advertised online once their agent had visited their home, just 21% of sellers said it went live the same day.
Some 36% said it took one to two days, while 34% had to wait between three days to a week. For 10%, it took a week or longer.

Giraffe360 CEO, Mikus Opelts, commented: "Visiting a vendor's home to photograph it for sale really is the first opportunity an estate agent has to set the tone with regard to their ability to act promptly and professionally. However, it can be hard to strike the right balance between the two.
"On the one hand, the ability to compile a seemingly fit for purpose property listing with nothing more than a smartphone allows agents to ensure they have a home listed online in a very short period of time. But in doing so, it can also demonstrate a lack of care and service quality.
"Although these agents are taking the time and effort to try and fully showcase the homes they are selling, the results are often below par due to their lack of photography skills and the tools being used.
"Of course, utilising third party help will yield far superior results, but with the market continuing to boom, it can be some time before a professional third party can be booked to visit the property.
"Finding a middle ground can be tricky and it's this problem that Giraffe360 seeks to fix, by providing industry leading tech to estate agents so that they can produce high quality media, without having to embark on a career in photography. Not only can they produce a far superior quality of property photo, but they can do so as soon as their schedule allows them, with these photos ready for use within days, not weeks."