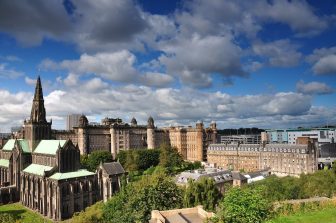 The Scottish housing market is bouncing back to 2019 levels following a year of emergency Covid restrictions and insufficient supply, according to Landmark Information Group's latest market data.
The newly-released Q1 Property Trends Report Scotland paints a positive picture for home-movers as supply pressures ease.
The report, which uses Landmark's data to reflect on market activity during the first quarter of the year, shows that whilst supply remained a challenge at the start of the year, pressure is now starting to be released as Covid-19 restrictions lift, although these have continued longer in Scotland than south of the border.
The increased consumer confidence and return to normality is reflected in the transaction pipeline, with completions exceeding 2019 levels by 11% in February as transactions for sales agreed in Q4 2021 concluded.
Key findings from the report reveal that completions exceeded 2019 levels by 11% in February as transactions for sales agreed in Q4 2021 concluded.
Also, market listings remained below 2019 rates for the same quarter but recovered well in March, ending just shy of March 2019 volumes (-3%).
In addition, registered sales also peaked in February, increasing 23% compared with 2019, which is in line with completions.
Landmark CEO, Simon Brown said: "As we analyse the data from the first quarter of 2022, it's encouraging to see the beginnings of a calmer, and crucially, more consistent market as Covid-19 restrictions finally lift for the Scottish market.
"Despite the hopeful signs, the broader factors – from the burgeoning cost-of-living crisis to geopolitical instability – are yet to fully play out. This makes it ever-more crucial that the industry is able to evolve and adapt to external shocks, to minimize the impact on home-movers."
The Q1 2022 Scotland edition of Landmark's Property Trends Report (Cross-Market Activity) is now live.