Property group Savills has upgraded its forecasts for the UK's prime housing markets to reflect the unique impact that the extended stamp duty holiday, availability of mortgage finance and repeated lockdowns have had on what affluent buyers are looking for from their homes.
Momentum continues to build across prime regional markets
The firm now expects the UK's prime housing markets outside of London to grow by 9.0% across 2021 (up from +5.0%) . This reflects four consecutive quarters of robust house price growth, which saw the prime regional markets of the UK increase in value by 8.5% over the past year on average. This is the highest annual figure for more than a decade.
The experience of the various Covid-19 lockdowns caused many affluent buyers to search for larger homes, and to consider lifestyle and relocation moves. This means well-priced properties have been selling quickly and those in the most sought after markets have often attracted competitive bidding.
In particular, £2m+ prime country houses and coastal markets have seen substantial surges in demand but constrained supply and this has led to annual price growth of 12.9% and 14.6% respectively.
Over the next five years, prices are forecast to increase by 25.1% (up from +20.5%). Growth is expected to be led by London's suburbs (+26.0%) and the wider south (+25.7%) which have hugely benefited from buyers relocating from more central locations. Prime central London is expected to experience five-year growth of (+21.5%).
Savills prime house price forecasts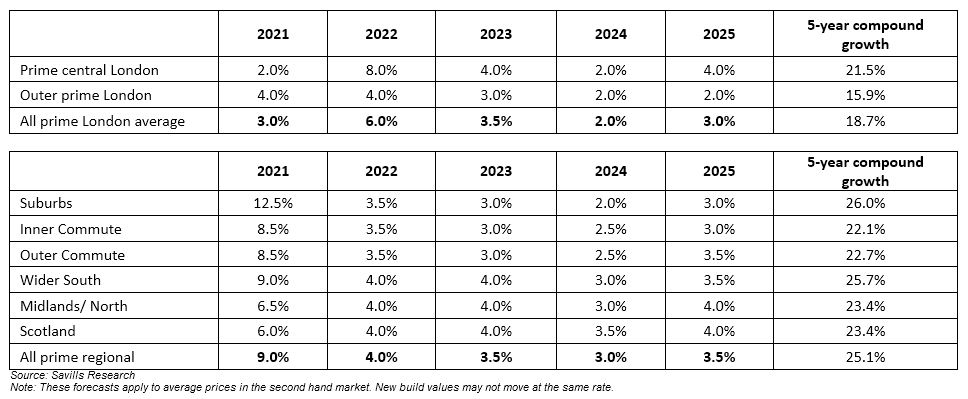 "Some sellers operating in the prime market have been relatively reluctant to bring their properties to the market over the past year, in part due to the concerns around the risks that Covid-19 presents, but also because of the lack of available properties for them to buy. With fewer properties available to meet demand, prices have increased more rapidly than previously predicted, " says Frances Clacy, Savills research analyst.
"But, as lockdown restrictions have been lifted and the vaccine rollout continues at pace, more stock is likely to come to the market. As such, a readjustment in buyer and seller expectations will be crucial to maintain the current market momentum.
"We anticipate that values will continue to rise throughout the remainder of 2021, but do expect price growth to soften. From next year onwards, the key factors that will impact the prime markets are gradually rising interest rates and the prospect of increased taxes. Both may reduce buyers' spending power, which will limit price growth in the medium to long term."
Central London's recovery delayed
For prime central London, whilst activity has remained robust, this is yet to translate into any meaningful price growth. Values have increased over the past year for the first time since late 2014, before the stamp duty overhaul, though only by a marginal 0.5%.
In particular, the prime central London flats market has lagged as it tends to be more dominated by those from overseas and those seeking a pied-à-terre for use mid-week. Domestic buyers and London-based international buyers have focused their attention on houses with outside space in a bid to upsize during the recent race for space.
Savills expects prime central London prices to start rising more significantly in the second half of 2021 and end the year with 3.0% gains (downgraded from +4.0%), followed by a strong 8.0% bounce in 2022, due to the continued delay in international arrivals.
Clacy continues, "While price growth has remained modest this year, there continues to be huge pent-up demand from those who have been restricted by travel over the past year. This suggests there is likely to be a rebalancing in demand once office-based workers return to their desks and international buyers are able to visit the capital more easily again.
"Buyers are well aware of the opportunity to be had while prices remain lower. The value on offer is significant in both a historical and global context in a market where values remain on average 20.3% below their 2014 peak. We're also seeing an uptick in demand for a wider variety of housing types in London as office workers return, and as a result, we expect the 'window of opportunity' to close quickly.
"The return to full international travel will still be crucial to the recovery in prices across the most central, high-value parts of the capital. The prospects of global wealth generation gives us confidence that the medium and long-term outlook is stronger. It remains the case of when, and not if, recovery takes place."
Outer prime London growth upgraded
The forecast for outer London has also been upgraded to +15.9% (from +14.8%) following a stronger than expected start to the year. Much like the regional markets, larger family homes with outside space have been the top performers, however, going forward there is likely to be more demand for a broader range of property types now that social distancing measures have been relaxed and many are returning to their offices.
Savills' latest buyer and seller survey suggests that there remains a core of unmet demand from those looking to move within London and those looking for a weekday base, which suggests growth can be sustained.