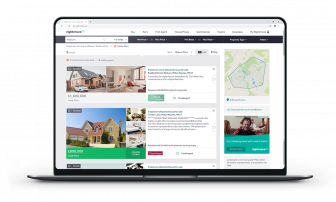 A two-branch estate agent in West Yorkshire says it is being held to ransom by Rightmove which is raising its subscription fees again this year.
Belong in Honley have been told by Rightmove that they face substantial hikes in their monthly fees when they come up for renewal on 1 August 2023.
The managing director of the firm, James White, who is a long-standing customer of the property portal, was told this week by his Rightmove account manager that his subscription membership was increasing by just over 17% on his current monthly cost.
An email sent to this agent, and others, points out that the costs of their core membership will increase citing the introduction of new tools and features.
White explained: "At a time when their clients are facing pressures in a much-reduced market, and with high general inflation of around 10% from their suppliers, estate agents on the core Essentials package, Rightmove's standard package, are being hit with an almost 18% increase in annual fees, taking the basic package to £1,385 per month.
"This is obviously a last swipe of the hand from Peter Brooks Johnson, the outgoing CEO as a sad farewell from the man who oversaw the fiasco that was Rightmove's response to the initial lockdown in 2020.
"The cash cow that is Rightmove keeps moving forwards with it's outrageous annual increases, knowing that it has largely a monopoly on where the public look first for residential sales listings."
Message from Rightmove:
Change to your Rightmove costs
We've launched a number of new features and tools that are included in your membership which will help to continue to create opportunities for Belong, by James White. On 1 August 2023, in order to help us continue to upgrade the features and tools we offer for agents, the price for your membership is increasing.
In the table below, you can find out more about:
Making the most of the new features (find out more by clicking the links)
The changes to the price of your membership for your branches that are due for renewal
My Updated Bill
Honley  branch
2021 Membership
(GBP/Month)
2022 Membership
(GBP/Month)
Essential Sales Core Package

Branded listings
Rightmove Plus suite of reports, including our new quicker and easier Best Price GuideNEW that can be shared online or on mobile
Live & on-demand webinars now formally certified with the CPD ServiceNEW on the Rightmove Hub
Ofqual-regulated Level 3 Certificate for Estate and Lettings Agents (CELA) with on-demand training, now Propertymark approvedNEW
Automated fall-through process makes your properties available again post-fall through within 60 minutes NEW

1,180.00
1,385.00
Advertising Products
21.00
21.00
Total
1,201.00
1,406.00
When asked if he will agree to pay the increased amount being charged by Rightmove, or if he would simply cancel his subscription, White added: "One has no option in our part of the world but to continue with them as every agent is with them, and as my clients explain to me daily, they don't see their houses being marketed to the widest audience if they are not on Rightmove, and Rightmove know this.
"Instead, they are invited to either drop their spend on existing bolt-on services or upgrade to an enhanced package and eliminate their core membership fee altogether."
Rightmove has robustly defended the price rises.
A spokesperson for the portal told EYE: "We're having conversations with some agents where their memberships are due for renewal. We're committed to providing agents with the best exposure for their brand and properties to the UK's biggest home-moving audience, as well as the products and tools to help them win more vendors and landlords.
"Agents can choose which package and suite of tools is right for their business, and our account managers will work with them to make sure the package matches the level of brand visibility that they want to achieve on Rightmove."