RICS COO Violetta Parylo has handed in her resignation and will leave the organisation today.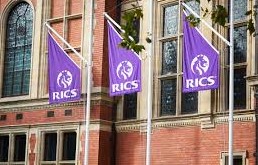 Parylo's sudden departure comes as a surprise, given that she has served on the executive team for over a decade.
Rofi Ihsan, currently interim chief financial officer, will take up the role of interim COO on Monday.
A spokesperson for RICS told EYE: "We can confirm that Violetta Parylo, Chief Operating Officer, has decided to leave RICS to pursue other opportunities and will depart on 4th June 2021.
"Violetta has been a member of the Executive Team for over a decade, in which time she has made a significant contribution to RICS and played a central role in steering the institution and tackling the challenges of Brexit and Covid-19. We wish her all the best in her future endeavours.
"Rofi Ihsan, currently interim chief financial officer, will become interim Chief Operating Officer on 7th June 2021, providing continuity of leadership and ensuring a smooth transition."
Parylo's decision to quit comes as members demand sweeping changes at the organisation.
Just six weeks ago, the chair of an independent review into corporate governance practices at RICS resigned.
RICS agreed in January to set up an independent review into its response into a scandal which broke out over allegations that a report criticising the group's governance had been suppressed.
Peter Oldham was appointed a few weeks later February to investigate the events that led to the dismissal of four directors in November 2019 after they raised concerns about the findings of a 2018 BDO financial audit into the historic body.
But in mid-April RICS updated its website to announce that Oldham, a barrister at 11KBW, was unable to continue in his role "for professional reasons".
RICS launched the independent review following allegations last year that four directors were forced out for highlighting a 2018 BDO report warning that RICS was exposed to "unidentified fraud, misappropriation of funds and misreporting of financial performance".
Oldham has been replaced by Alison Levitt QC.
In addition to the independent investigation, RICS has also agreed to undertake a comprehensive review looking at the ongoing purpose and relevance of RICS in 2021 and beyond.
Overseen by chief executive Sean Tompkins and president Kathleen Fontana, it is currently examining a range of issues, including member experience and engagement.