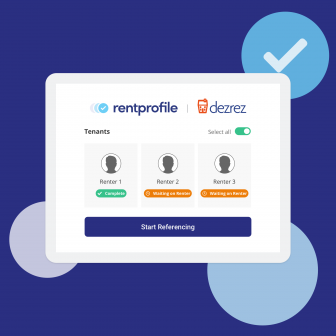 Referencing provider RentProfile has integrated with Dezrez – both parties hope that the new partnership will appeal to more agents.
Dezrez, which provides cloud-based, API-driven estate agency software, believe that its integration with RentProfile's referencing product, now available in the Rezi software, will help speed up the referencing process for agents.
RentProfile says that its platform performs twice as many checks to verify identity, employment and affordability, complete with a report which outlines all the checks, viewable within Rezi.
It is claimed that they see on average a 20% uplift in approvals, approving tenants who would otherwise fail traditional referencing, such as self-employed renters.
After opening RentProfile in their Rezi account, agents are able to request a referencing check by turning a switch for each tenant. Agents can then see live updates of the tenant's progress throughout, with status updates including: awaiting the renter's signup, waiting on ID, all the way to completion. Once the report has been generated the agent can view the full report in Rezi.