Two protesters were arrested following a demonstration outside of Ryeview Homes in High Wycombe town centre.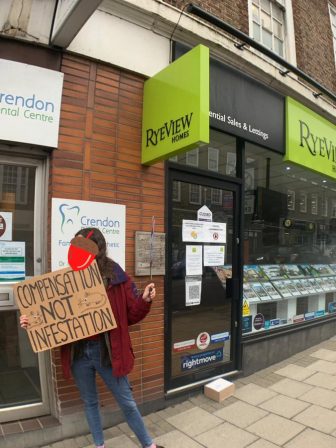 Members from the union ACORN held a demonstration outside of Ryeview Homes's office on Crendon Street after a family were evicted from a property located nearby.
Thames Valley Police were called after the protesters attempted to gain entrance to the agency's office.
Officers arrested a man, aged 21, on suspicion of criminal damage. He has since been released under investigation.
A woman, aged 27, was also arrested on suspicion of criminal damage and bailed.
In a post shared on Twitter, ACORN Oxford wrote: "Our members stood outside @ryeviewhomes in support of Carla and Alex, whose family have been suffering with a rat infestation, multiple hazards and a Section 21.
"Our members were there within their legal rights to form a 15 person support group, as outlined in government Coronavirus legislation. The demonstration was socially distanced, outside, and entirely peaceful.
"Amjd Choudhry, our members' letting agent, and Ryeview Homes were too cowardly to face the family and the suffering they have caused.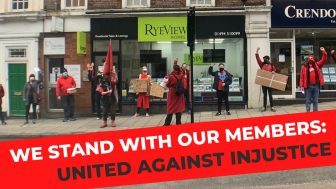 "Rather than listen, they called the police on the ridiculous grounds that someone tapping on the window constitutes 'criminal damage'
"Instead of supporting tenants standing up for their rights, the police decided to arrest two of our members for no reason. They stopped and searched our members, before detaining them without evidence or charge.
"Our members have acted legally and responsibly to protect an ACORN member and her family, standing up against injustice.
"The police are protecting the interests of the powerful: trying to intimidate ordinary people standing up for our right to safe, decent housing.
"RT and show RyeView Agents and Thames Valley Police that we will not be silenced!"