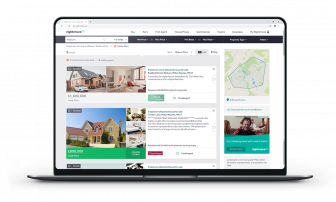 Property asking prices this month were 9.3% higher than 12 months ago, down from a 9.7% rise in June, as increasing mortgage costs and and a surge in the cost of living have an impact on the housing market, according to Rightmove.
The UK housing is showing clear signs of cooling after a more than 20% surge in prices since the start of the pandemic, as buyers reassess what they are now prepared to pay for a property.
The average monthly mortgage payment for first-time buyers had increased by 20% since the start of the year, reflecting both higher interest rates and the increased price of property – which hit a record £369,968 this month, the property portal said.
However, despite the dip in demand from buyers, the shortage of property being put up for sale meant asking prices were unlikely to fall faster than normal for the time of year in the second half of 2022, said Rightmove.
Over 2022 a whole, asking prices were likely to rise 7%, more than its initial 5% forecast, it added.
Property industry reaction:
Jeremy Leaf, north London estate agent, said: "Asking prices may still be rising but not at anything like the pace of last year despite the continuing shortage of stock.
"Listings are on the up as sellers try to take advantage of what many appreciate is the peak of the market but still not in sufficient numbers to meet demand.
"Enthusiasm to move is outweighing concerns about inflation and interest rates in particular for the time being at least.
"However, increasingly-stretched buyers are also concerned that imminently-expiring mortgage offers will result in higher repayments.
"Some tough discussions are ensuing with bullish sellers which we're finding is resulting in more realism on both sides but certainly no significant re-negotiation or large scale withdrawals."
Richard Davies, MD of Chestertons, commented: "When comparing July to date with last month, there has been an evident increase in buyer enquiries as well as in the amount of viewings our branches have conducted with interested buyers. One of the key reasons for July's market activity to pick up is that we have seen the return of house hunters who put their property search on hold over last month's Jubilee bank holiday weekend.
"Another potential factor for some buyers wanting to find their property sooner rather than later is the Bank of England's upcoming meeting on 4 August to review and potentially confirm another rise in interest rates.
"Whilst demand continues to outstrip supply, the good news is that June's property market has actually seen a 23% uplift in the number of properties available to buy. This means that some buyers can currently benefit from a marginally larger selection of properties within their budget and desired area, which is good news for buyers who are less willing to compromise on their requirements."
Ben Woolman, director at Woolbro Group, commented: "Though the economic reality has taken longer to dawn on the sector than others, buyer confidence is now clearly ebbing away amid rising inflation and tightening belts.
"However, given the widely-anticipated slowdown in the delivery of new homes over the coming years – mainly as a result of rising building costs and a shortage of construction workers – demand will continue to outstrip supply, meaning the chances of a significant market correction are slim to none.
"Resilient property prices are not, however, indicative of a healthy property market. Hopeful first-time buyers will again be hardest hit as they are faced with rising rent prices, inflation and energy costs – all while trying to save for a deposit on their first home.
"More worryingly, the government has yet to confirm any replacement to the Help to Buy scheme, which is set to close to new applicants in a matter of weeks.
"Whoever emerges as Britain's new prime minister come 5 September must, as a matter of urgency, spell out a clear roadmap for how they plan to address the country's crippling housing crisis."
Tomer Aboody, director of property lender MT Finance, said: "With such low numbers of properties coming to the market, it's not surprising we are seeing record prices as buyers compete for little stock, pushing values higher.
"With interest rates rising, along with inflation and house prices, first-time buyers and movers are facing even tougher conditions with markets running away from them.
"A restructure of stamp duty might encourage potential sellers to enter the market knowing that the cost of moving, whether upsizing or downsizing, is lower, and therefore more affordable."