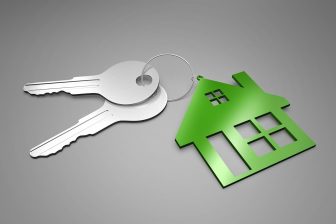 Annual house price growth slowed 6.3% in the 12 months to January 2023, down from 9.3% in December 2022, the Office for National Statistics (ONS) said.
The average residential property price in the UK was £290,000 in January 2023, which was £17,000 higher than 12 months earlier.
The average UK house price recorded a monthly fall of 0.6% in January 2023, following a 0.4% drop in December 2022.
The average property price in Scotland increased by 1% over the 12 months to January 2023 to £185,000.
Annual house price inflation in Scotland has generally been slowing since a recent peak of 13.8% in the 12 months to April 2022, the ONS said.
The typical house price in Wales increased by 5.8% over the 12 months to January 2023. The average house price in Wales in January 2023 was £217,000.
In England, the average property value increased by 6.9% over the 12 months to January 2023. The average house price in England was £310,000 in January 2023.
Within England, the North East had the highest annual house price inflation in January 2023, at 10.0%, while London had the lowest, at 3.2%.
London has the highest average house price in England, at £534,000, while the North East has the lowest, at £163,000.
And in Northern Ireland, the average house price increased by 10.2% annually, with the average house price there at £175,000.
Industry reactions:
Emily Williams, director of residential research at Savills, commented: "The ONS house price data shows the continued slowdown in annual house price growth. Average house prices fell for the second month in a row in January, although the annual growth figure remains positive, reflecting the strong growth seen in the first half of 2022.
"However, some markets continue to outperform. The North East saw a slight increase in average values between December 2022 and January 2023, reflecting the region's limited exposure to mortgage affordability pressures. Savills expects regions furthest from London, and cash and equity rich markets which are least reliant on borrowing to be the strongest performers over the next five years.
"The data is also starting to show the challenges first-time buyers are facing due to rising borrowing costs. The average price paid by FTBs fell by 1.5% between December and January, but values paid by home movers, who have been able to build up equity through the strong price growth in 2020-2022 and can therefore borrow at lower loan to income ratios, saw a much smaller fall."
Nathan Emerson, Propertymark chief executive, said: "The ONS's latest data reflects on deals agreed around the time of the disastrous mini-budget and more up-to-date data coming from the market and the wider economy paints a more positive picture.
"In January, our member estate agents reported that the market had picked up pace with sales agreed up 50 per cent from December. Serious buyers are still very much in the market and with more homes are coming up for sale, competition is considerably lower. Therefore, prices are returning back to far more sustainable levels than seen previously."
Nick Leeming, chairman of Jackson-Stops, commented: "Despite economic headwinds, the property market remains on course for the months ahead, with only a marginal decrease in house prices reported despite many predicting a more dramatic decline. Much of this data reflects the fallout from Autumn's Trussonomics, where now, as we move into the Spring, we are seeing a much more healthy market with more listings as well as buyers, as people renew their search after putting purchases on hold for longer than usual at the end of last year. Resilience is the new buzz word for housing, with what could be a surprisingly bright summer ahead.
"Sellers have benefited from unprecedented levels of house price growth in recent years and even as this pace softens, low housing stock and stabilising mortgage rates are likely to insulate prices for the foreseeable future. On an annual basis average UK house prices increased by 6.3%, with the average price now £290,000. Even as price growth adjusts slightly month on month, house prices are still £17,000 more than they were a year ago. This was demonstrated further in Rightmove's latest survey, seeing house guide prices rise by £3,000 – seemingly defying economic gravity but a solid indicator of a resilient market.
"There remain opportunities available and deals to be had for buyers in a position to move quickly. Micro-housing markets continue to see regional nuances in buyer demand and stock availability, but one thing that is clear across Jackson-Stops' national network is that properties in prime locations with high quality, local amenities are continuing to command a premium. Urban locations and commuter towns that allow buyers to have more space and a manageable commute remain property market gold dust."
Jason Tebb, CEO, OnTheMarket, remarked: "This data may be a little historic but shows the continued, gentle slowdown in annual price growth in January. Continuing uncertainty, seasonal factors, changes in the macro-economic climate and the surge in mortgage rates since the mini-Budget are all bound to have affected the confidence of the average property-seeker.
"The market continues to rebalance in a reassuringly measured way rather than a drastic readjustment, although today's news about the surprise increase in inflation illustrates that short-term volatility may be an issue for a while yet.
"While market conditions are more challenging, as we head into spring and what is traditionally a busier time of year for the market, properties must be priced correctly in order to achieve a successful outcome."
Iain McKenzie, CEO of The Guild of Property Professionals, said: "The gradual readjustment in house prices continued in January, despite year-on-year levels still showing growth.
"The average home still costs almost £60,000 more than pre-pandemic levels, and there will be many first-time buyers who have been saving since before then that will be hoping prices fall further still.
"Homeowners shouldn't worry though, as the slowdown in prices is moving at such a glacial pace that homes are unlikely to lose significant value.
House prices have always been influenced by affordability, and with inflation making a surprise jump today, it is clear that this needs to be brought under control before confidence can be restored in the market."
Jonathan Hopper, CEO of Garrington Property Finders, commented: "The direction of travel is now unmistakable. Two successive months of slipping house prices – down 0.4% in December and down a further 0.6% in January – confirm this is no fleeting wobble.
"But neither is it the plunge some had predicted, and as a result the predominant trends on the front-line are uncertainty and procrastination.
"Nobody can be sure whether this is the calm before the storm, or if the storm has been averted at the eleventh hour.
"At the top end of the market, where fewer buyers are reliant on mortgage borrowing, many are pressing on with their purchases, albeit with some risk priced into what they're willing to pay.
"But the pinch point is first-time buyers and second-steppers, for whom the sticky mortgage market remains a major barrier.
"Unless and until borrowing becomes less expensive, many of these buyers won't be able to proceed and as a result the number of transactions will continue to fall. The squeeze will be concentrated on sales volumes, not prices."
Tom Bill, head of UK residential research at Knight Frank, said: "January's drop in annual house price growth tells us a lot about the detrimental impact of the mini-Budget but very little about how the UK property market will perform this year. After effectively switching off for the final quarter of 2022, demand and supply have been solid this year and sales volumes will eventually catch up against an economic backdrop that is proving stronger than expected. This won't be the last mismatch between weak historical data and the stronger present-day reality. A recession has been revised away and inflation forecasts have been lowered, although we think prices will come under pressure as more owners move onto higher mortgage rates and supply builds from the lows of the pandemic."
Steve Griffiths, chief commercial officer at The Mortgage Lender (TML), said: "House prices are showing signs of defying market slowdown expectations, and with rising living costs, high inflation and interest rates, the affordability gap is widening to a chasm for many. In fact, our own research found that not being able to afford to get onto the property ladder was a top concern among 30% of renters."
Steve Rayers, surveying director at Legal & General, commented: "Despite a somewhat difficult and uncertain economic climate, house prices remained broadly stable in January. When it comes to property prices though it's important to take the long view, and overall property values are higher than they were last year and the market is resilient. Given owner occupiers will spend an average of over 17 years in their home, these long-term trends are far more important to homeowners than month-on-month fluctuations.
"While the resilience of the market will come as a relief to homeowners, first time buyers may still struggle to access the property ladder. Affordability is an increasingly key concern in this market, and many will understandably exercise caution when buying a property, which will likely be the largest purchase of their lives. In this climate, expert advice is more valuable than ever. A pre purchase survey carried out by a professional member of the Royal Institution of Chartered Surveyors (RICS) is vital to help potential homeowners gather as much information as possible before signing on the dotted line. This will not only protect new buyers from any unexpected costs or issues in the future, but it can even help them negotiate on price."
Matthew Thompson, Head of Sales at Chestertons, said: "January unfolded with a busy property market as house hunters who paused their activity due to last year's economic uncertainty no longer wanted to delay their search. Whilst buyer demand remained strong, we saw fewer sellers entering the market as many homeowners continued to observe how the market was developing in the first quarter of this year."
Chestertons previously predicted that property prices will not fall substantially in 2023 as it believes the strong underlying demand for homes combined with fewer-than-expected forced sales will cushion prices. Instead, the agency expects that many homeowners will adopt a 'wait-and-see' approach for the first half of 2023 which will reduce the number of property sales that take place. It is anticipated that this lack of activity will cause a high degree of 'buyer frustration' in the second half of the year which, when released, will support a rapid price growth in 2024.
Andy Sommerville, director at Search Acumen, commented: "We are continuing to see some course correction since the pandemic and the disastrous mini-budget last year, wreaking havoc on house prices. If interest rates remain at this level and transactions feel the effect of seasonal spring energy, it is likely house prices will keep on a similar path in the coming months, keeping the sector reliant on the resilience of our demand driven market. Today's ONS figures reflect a difficult housing market, and a house price forecast that that many predicted at the start of the year, albeit with a slightly softer landing.
"Following the Chancellor's budget last week, with the announcement that the UK will avoid a recession this year and measures such as continued energy bill support and frozen fuel duty, there is space for increased consumer optimism to prevail. However, with a backdrop of the worst cost-of-living crisis in 60 years, making predictions for the rest of the year is increasingly hard to make. For house prices, the market's ability to fend off consumer concern is heavily dependent on the bank's ability to lend, keeping mortgage affordability and household finances firmly in the spotlight. As the economic picture constantly evolves, it is incredibly important that property sales are done quickly and efficiently, while mortgage deals remain in place.
"The easiest way to keep transactions at pace is to integrate technology into the homebuying journey – ensuring better communication, avoiding errors, and simplifying tasks that would have previously taken weeks, into those which take seconds. This keeps both sides of the equation happy, with lawyers able to put their expertise to use rather than wasting time on administrative tasks, and homebuyers able to complete transactions faster and with less fuss."