To the surprise of absolutely no-one in the property industry, latest provisional, seasonally-adjusted figures from the ONS (National Statistics) show UK residential transactions in February 2021 were at 147,050, 48.5% higher than February 2020 and 23.0% higher than January 2021.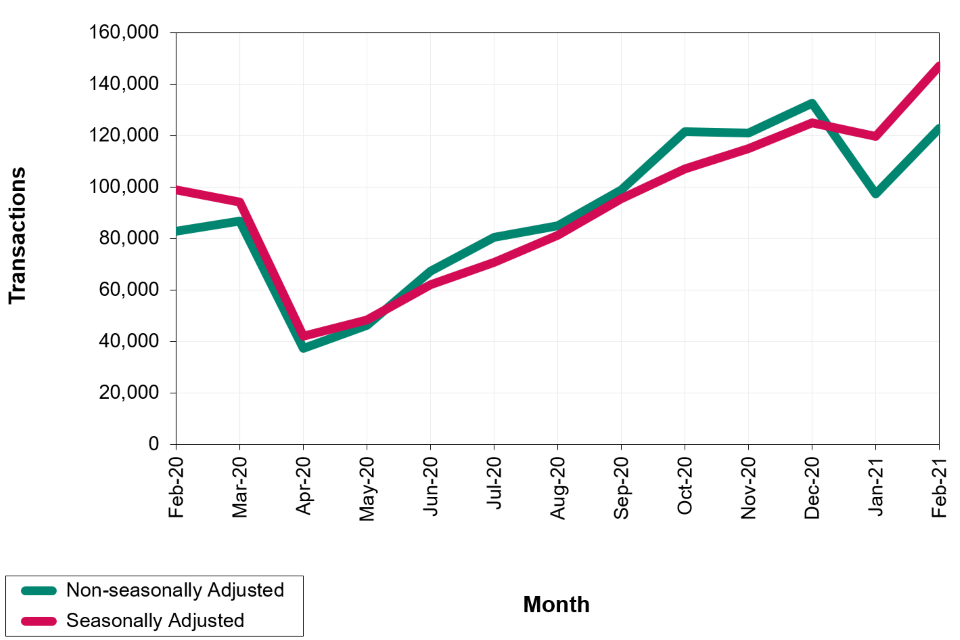 The ONS commentary on the data says:
Provisional estimates of UK residential transactions in February 2021 have increased year on year, likely impacted by temporarily increased nil rate bands for SDLT, LBTT and LTT.
Provisional estimates of UK residential transactions in February 2021 have also likely captured impacts from forestalling, as taxpayers sought to file returns for completed transactions during February in time for the original increased SDLT nil rate band policy end date of 31 March 2021, and before the policy was extended at Budget 2021
The provisional non-seasonally adjusted estimate for UK residential transactions in February 2021 of 122,840 is the highest February total since the introduction of Stamp Duty statistics in their current format from 2005.
Following year on year decreases in April and May 2020 of around 50% caused by economic impacts relating to the coronavirus pandemic, UK residential transactions estimates have followed a gradually increasing trend during subsequent months.
Particularly interesting is the chart of  February transaction volumes in the last decade: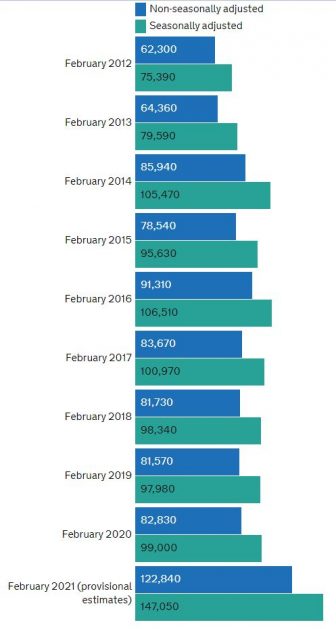 Jonathan Hopper, CEO of the buying agents Garrington Property Finders, commented:
"Clearly February's extraordinary numbers are unlikely to be repeated. Almost 50% more homes were sold during the month compared to the same time last year, and the spike in completions was the result of a 'sprint finish' as countless buyers strained every sinew to hit the finishing tape before the Stamp Duty deadline.
"Now the Chancellor has moved the finish line back by several months, the pace is unlikely to stay quite as breathless. But the combination of a strong pipeline of would-be buyers, a gradual rolling back of lockdown and a growing sense of optimism should prove formidable.
"The sprint race may be over, but the market has plenty of spring left in its step."
Jonathan Sealey, CEO at specialist lender Hope Capital, said:
"After a year of living with coronavirus restrictions and an unprecedented economic downturn, today's figures highlight a property market that is in rude health. However, the spike in transactions in February will have been driven by house-buyers looking to beat the SDLT holiday deadline in March, so it will be interesting to see the impact of the Chancellor's Budget announcement that will be extended into the summer."
Iain McKenzie, CEO of The Guild of Property Professionals:
"These figures paint a picture of a housing market that's got rockets strapped to its boots – up 50% year on year and nearly a quarter higher than January.
"The good news for the property market looks set to continue with the extension of the stamp duty holiday, and we're expecting prices and transactions to continue to rise.
"The increase could also give a glimmer of hope that conveyancing delays, which had held up completion for many buyers, are starting to ease."
Buying agent and property pundit, Henry Pryor, summed up in a tweet what many must be thinking,: "Did we really need the extention to the Stamp Duty holiday?"