The number of completed property transactions plummeted by 45% at the height of the coronavirus pandemic, HMRC data shows.
The taxman's Stamp Duty data for the second quarter of 2020 shows receipts from the tax fell 42% annually to £1.08bn from 133,300 residential property transactions.
The number of transactions from first-time buyers using the Stamp Duty relief was down 43% to 30,100.
The data is up to the end of June so does not include the period since the Stamp Duty threshold was raised to £500,000.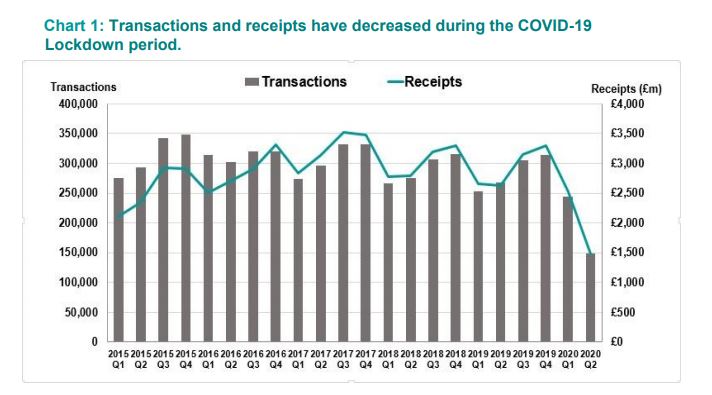 Meanwhile, Nationwide's latest House Price Index for July suggests the market has bounced back.
Average prices were up 1.5% annually and grew 1.7% on a monthly basis to £220,936.
This is a reverse of the 0.1% annual drop and 1.6% monthly fall recorded in June.
Robert Gardner, Nationwide's chief economist, said the market is being helped by pent-up demand and the Stamp Duty holiday, but warned of false dawns.
He said: "Most forecasters expect labour market conditions to weaken significantly in the quarters ahead as a result of the aftereffects of the pandemic and as government support schemes wind down. If this comes to pass, it would likely dampen housing activity once again in the quarters ahead."
Commenting on the data, Andy Sommerville, director of conveyancing software provider Search Acumen, said: "The latest Stamp Duty data reveals the severe impact the coronavirus pandemic and resulting lockdown measures had on the UK property market.
"The fall in Stamp Duty Tax receipts over the last quarter was mainly driven by the Government's decision to freeze the market to stop the spread of Covid-19.
"We have now reached a turning point. The easing of restrictions and raising of the Stamp Duty threshold is beginning to incentivise hesitant buyers to commit to purchases. Although this will reduce receipts in the short term, it will stimulate strong buyer activity and accelerate the market's recovery.
"To ensure this is stimulus continues to benefit the market in the longer term, we urge the Government consider a phased re-introduction of Stamp Duty and the gradual lowering of the threshold after March 2021 to ensure demand does not suddenly decline."