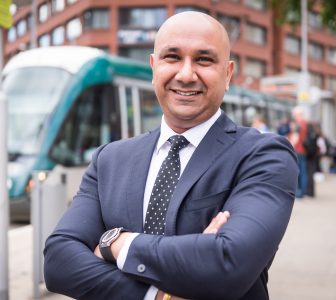 One of Nottingham's best known chartered surveyors has been awarded the profession's most prestigious accolade at the age of just 36.
Having spent the past year setting himself a series of increasingly ambitious targets, Sunny Landa can now look forward to a change of title after being made a Fellow of the Royal Institute of Chartered Surveyors (FRICS).
He is one of the youngest property professionals in the UK to be made a RICS Fellow and one of only a handful in Nottingham.
A popular and respected figure on the East Midlands property scene, Landa received his MRICS in 2010 and has since worked as an assessor for the industry body, helping to nurture and guide the next generation of surveying talent.
FRICS holders are required to satisfy four key criteria set out by a high-ranking panel of RICS assessors to gain the title, with most applicants usually only managing an average of two.
FRICS accreditation is awarded to chartered surveyors whose achievements transcend mere expertise in the field. To receive the accolade, individuals must demonstrate the ability to handle complex matters and prove they have made a profound impact on the industry. They will be industry influencers and role models and have an exemplary track record of providing expert advice to clients.
Landa said: "I'm beyond delighted to be made a Fellow of the Royal Institute of Chartered Surveyors. I spent the last year setting goal after goal, pushing myself to the hilt. It's a great feeling to see my efforts recognised in this way.
"I hope up-and-coming surveyors who perhaps feel daunted by the FRICS process can see themselves in my shoes one day. If you're good enough, and work hard enough, you can achieve this.
"Talented property professionals should never feel shut out. As long as you're sufficiently committed, there's a place waiting for you at the top table irrespective of age or background.
"To gain the respect of industry peers is always a special feeling. I am over the moon with this accolade but I have no intention of resting on my laurels. In a way I feel like I'm only just getting started, so I'll say it loud and clear – bring on the next chapter!"