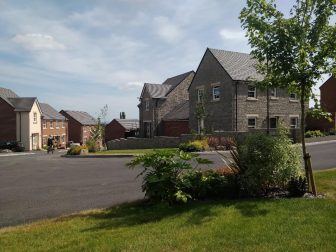 Homebuyer demand for new homes dropped during the closing stages of 2022, while the level of new-build stock available to buyers increased, according to research by Alliance Fund.
Analysis of the latest figures revealed that during the final quarter of 2022, demand for new homes sat at 18.5%, meaning almost a fifth of all available new-build homes listed for sale had been snapped up by homebuyers. However, the research also revealed that new-build buyer demand had fallen by 10.6% on the previous quarter and 15.3% on an annual basis.
In fact, just one of the top 20 major cities analysed by Alliance Fund has avoided a drop in demand for new homes; in Aberdeen, demand remained flat between the third and fourth quarter of 2022, climbing marginally on an annual basis (0.1%).
Cardiff saw the largest decline in demand on a quarterly basis at 27%, followed by Portsmouth (21.5%) and Nottingham (16.3%).
Annually, the most notable drop in demand was recorded in Bristol and Plymouth, with both cities seeing a decline of 28.2%, followed by Sheffield (23.4%).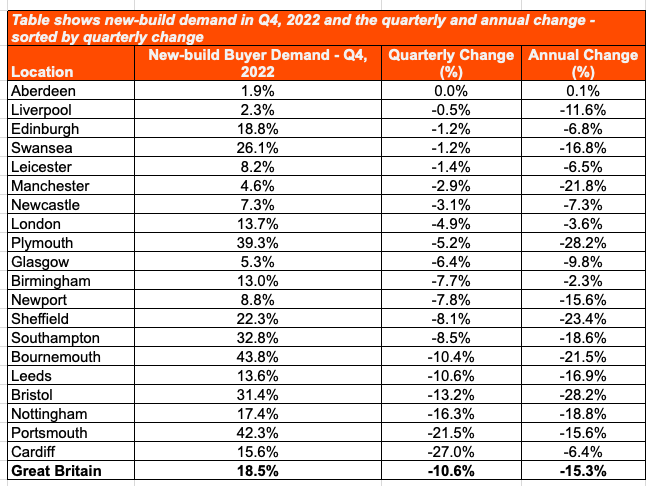 Meanwhile, during Q4 of last year, new-build for sale stock accounted for 8.2% of total homes listed for sale, up 1.6% quarterly and representing a 0.6% increase versus the same period the previous year.
Manchester is home to the highest current level of new-build stock, accounting for 15.5% of total homes listed. Liverpool (+4.5%), Glasgow (+7.9%) and Edinburgh (+3.7%) saw the largest increase in new-build market stock as a percentage of total listings versus the previous quarter, while Manchester (+9.8%), Liverpool (+4.6%) and Newport (+3.9%) saw the largest annual increase.
Iain Crawford, CEO of Alliance Fund, commented: "The closing stages of 2022 presented a far more challenging landscape for the nation's homebuyers, with increasing mortgage costs and fears of a market downturn causing many to delay or postpone their purchase. Much like the wider market, the new-build sector has felt the pinch in this respect, with demand for new homes declining pretty much across the board both on a quarterly and annual basis.
"This presents a challenge for developers who have spent considerable time and money bringing homes to market and now face the prospect of either sitting on their stock until such time the market rebounds, or marketing them at a lower price point to the detriment of their profit margins."