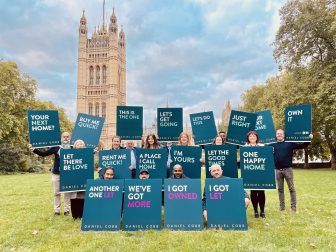 Daniel Cobb, the family run, central and south London estate agent has launched over 20 different creative executions of their For Sale and To Let boards.
Managing director George Cobb, who has a well-established background in marketing, working for large brands such as Nestlé and Coca-Cola, has been working closely with creative agency Starberry to produce that new boards.
Daniel Cobb has gone bold and decided to remove any of the visual cues and wording normally associated with traditional for sale and to let boards. Instead, they have gone for a design that uses a series of messages that they hope will prove fresh and engaging.
The board messages include things like:
I'm yours
Let's do this
This is the one
Your next home?
Buy me quick
Let's get going
let the good times roll
Just right
Own it
Rent me quick
One Happy home
I got owned
We've got more
Let there be love
I got Let
Another one Let
… the list goes on!
Cobb said: "I am very excited about this creative idea; it's fresh, innovative and is quite unlike anything that's been done before. For Sale and Let Boards outside homes are still one the most effective ways to generate interest for a property.
"Having a board outside your home doesn't need explaining, it has become synonymous with Selling or Letting.  In accepting that, this has given us much more creative freedom to bring a range of ideas that are truly unique as well as reflecting our brand personality.
"My favourites are: I'm yours, This is the one and Let's do this. After we started writing the first few, we couldn't stop and the different phrases  just kept on coming. This latest board refresh is part of an ongoing review of the entire property marketing mix.
"We're responsible for homeowners' most valuable asset, so when coming to market their property we need a marketing strategy which connects with its target audience at every touchpoint and we believe the board will do just that."