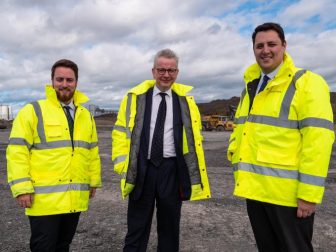 Housing secretary Michael Gove insists that the government is still committed to a manifesto pledge of building 300,000 new homes annually the mid-2020s, despite doubts raised by ex-prime minister Liz Truss who said she wanted to abolish "Stalinist" housing targets.
Gove, who returned to cabinet as the Levelling Up, Housing and Communities Secretary, last week, told the BBC that he wanted to build more new homes – both for ownership and to rent. However, he warned that meeting the target would be "difficult" due to the economic circumstances.
He said: "We need to be straight with people: the cost of materials has increased because of the problems with global supply chains and also a very tight labour market means that the capacity to build those homes at the rate we want is constrained."
Asked about Truss's past comments on housing targets, Gove continued: "The top-down housing targets that… Liz was referring to are part of a broader and different calculation from the 300,000 in the manifesto.
"My view is that what we do need is a fair way of allocating housing need that takes account of changes in population."
During the interview on Sunday with Laura Kuenssberg, he said new developments should be "more beautiful", have the consent of the local community, be accompanied by the right infrastructure and protect the environment.
Earlier this year, former housing secretary Robert Jenrick said the government would "miss their 300,000-homes-a-year manifesto pledge by a country mile".
In the Conservative leadership campaign over the summer, Truss hinted she would scrap the target, telling the press, "I want to abolish the top-down Whitehall-inspired Stalinist housing targets – I think that's the wrong way to generate economic growth."
During the contest, Sunak's team also said he did not believe in arbitrary or top-down numbers for housing.
In May, Mr Gove himself appeared to cast doubt on the target.
He said the government would do all it could to meet the figure, but added that it would be "no kind of success simply to hit a target if the homes built are shoddy, in the wrong place, don't have the infrastructure and are not contributing to beautiful communities".
However, when asked by Laura Kuenssberg yesterday if the government was still committed to the 300,000 figure, Mr Gove said: "Yes."