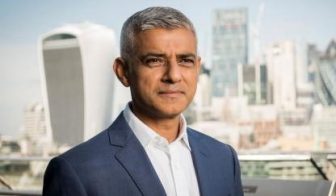 The Mayor of London has called for a register of overseas property ownership to clampdown on London being used for international money laundering.
According to Sadiq Khan, properties in the capital owned by overseas individuals and firms could be sheltering billions of pounds of undeclared funds.
Khan argues that the government's failure to deliver on a pledge to introduce a register of overseas property ownership is leaving those with strategic links to President Putin of Russia with places to hide in London and around the country.
Many of these properties in the capital are also left empty and unused at a time when thousands of Londoners are struggling to get on the housing ladder or to find somewhere affordable to rent.
Almost 250,000 properties in England and Wales are now registered with overseas-based buyers, a figure which has swelled from fewer than 88,000 in 2010. London now accounts for 85,451 property titles held by foreign individuals or companies.
As of 2 February 2022, Land Registry data collated by Transparency International recorded 41,631 offshore companies holding assets in the Greater London area.
The authorities are aware of properties owned by some allies of Putin, but the lack of transparency in the current regime means that it remains unclear who owns thousands of properties in the capital, claims Khan.
The mayor fears that a lack of transparency in the legal and beneficial ownership of companies and individuals who own UK property could be aiding offences such as tax evasion and money laundering, as well as hiding the assets of those who would come under any possible sanctions regime.
The mayor's call comes following an unsuccessful attempt earlier this week by a cross-party group of MPs to compel the government to take the first step towards setting up a register, by amending the Finance Bill currently passing through Parliament.
The amount of illicit and undeclared money invested in Britain is notoriously hard to track. In 2016, the government put the amount of corrupt money flowing into the UK at £100bn a year. Transparency International have claimed to have identified property worth £1bn bought with suspect funds from Russia alone.
Khan said: "For far too long ministers have turned a blind eye to the use of our capital city as a safe harbour for corrupt funds, which is having a negative impact on both our international reputation for transparency and our local housing market.
"The truth is that property in London plays a central role in harbouring illicit funds from around the world, which also results in many properties being left empty and unused at a time when many Londoners are struggling to afford a home to buy or rent.
"The government's refusal to introduce a register of overseas owners of UK property undermines our economic security. I have spent the last seven years pushing for more to be done on this issue, in the firm belief that sunlight is the best disinfectant.
"The slow pace of progress on this issue has been bitterly disappointing – and it will prevent the government acting on their tough talk about further sanctions if they are imposed on Putin's regime. Londoners deserve to know the identity of those that own property in their city, and we have waited long enough for the Government to do the right thing and fulfil its commitments."
George Havenhand, Senior Legal Researcher at Spotlight on Corruption, commented: "A register of overseas owners of UK property would enable the transparency that is essential for tackling the flood of dirty money in the UK. It was promised in 2016, consulted on in 2017 and committed to again at the G7 last year.
"The government has highlighted the serious criminal risks associated with opaque property ownership – including money laundering and hiding the proceeds of crime – so its failure to find time to set up the register is increasingly difficult to understand.
"The time for prevarication is over: the register must be included as part of the Economic Crime Bill in the next Queen's Speech."