Shopping centres, hotels and high-rise office blocks —all buildings you recognise on your daily commute, or did before the lockdown had you move to a makeshift desk at home with a view of the neighbour's back garden.
As for the names and faces behind these multimillion-pound investments, they aren't as recognisable.
In what might become a bit of a life-size game of Monopoly, MyToolShed has looked at some of the world's most successful property moguls and stacked their sizeable portfolios against one another.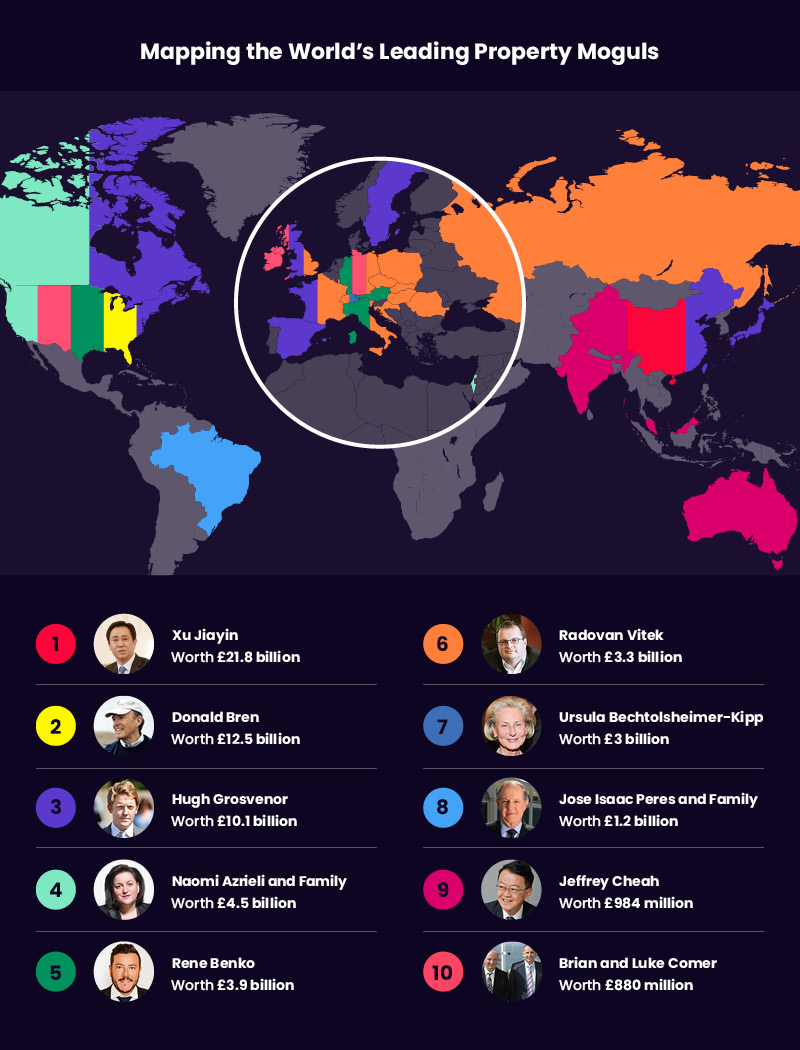 Brian and Luke Comer —£880m The County Galway pair left school in their teens to become plasterers, before switching to property development —a career change that landed them a billion pound-plus fortune and a place on this list.
It's reported that the Beckett Building, purchased by the brothers for roughly €5 million in 2013, was later sold for over €100 million.
Covering Ireland, the UK and Germany, their portfolio spans from Aldi stores to luxury apartments.
Projects of note include London's Royal Connaught Park and the Princess Park Manor residential accommodation, which was convertedfrom a former psychiatric hospital in the 90s.
Jeffrey Cheah —£984m Sunway Group, the conglomerate founded and chaired by Cheah, began life in 1974 and would go on to become one of Malaysia's largest corporations.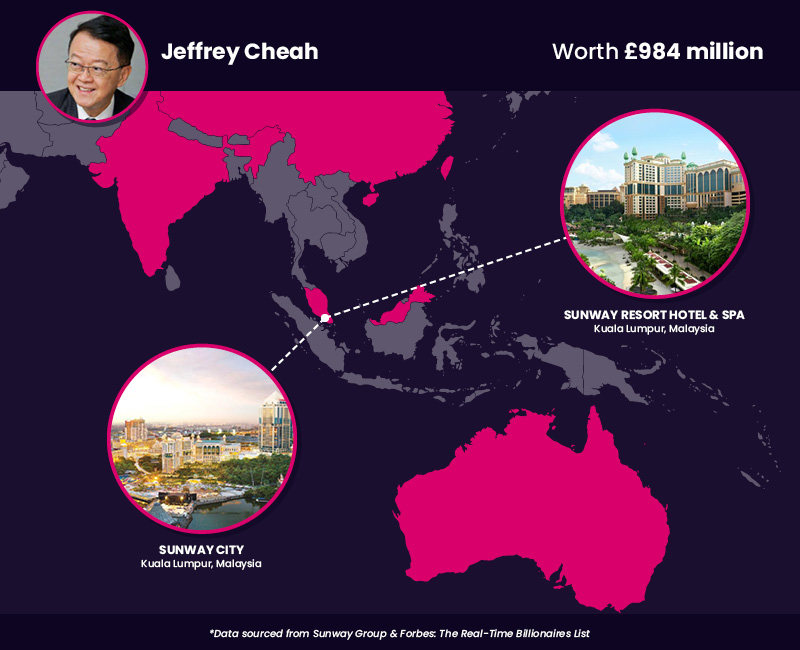 Its first major development is seen as the Bandar Sunway township, also known as Sunway City. From there, the group also moved into leisure, entertainment, hospitality and healthcare, building a portfolio that includes some of Asia's most recognisable developments, like Kuala Lumpur's Sunway Resort Hotel & Spa.
The company works to a "Build-Own-Operate" business model, which has it involved in every link of the property chain and could be in part to thank for Cheah's billionaire status.
Jose Isaac Peres and family —£1.2bn Peres began building his empire at only 22 when he founded Vepan, the first property firm to be listed on the Brazilian stock exchange and one that would eventually become Multiplan.The publicly traded property company now oversees 19 Brazilian shopping centres and 160 million customers a year.A proud son of Rio de Janeiro, Peres reportedly refuses to move Multiplan to Brazil's financial capital, Sao Paulo. He personally owns 30% of the company's stock.
Ursula Bechtolsheimer-Kipp —£3bn Ursula Bechtolsheimer-Kippis the chairwoman of Tschuggen Hotel Group, a luxury resort group, and daughter of Karl-Heinz Kipp, who founded Germany's Massa department store chain.The group owns several hotels across Switzerland, including Arosa's Tschuggen Grand Hotel and the exclusive Carlton Hotel in St. Moritz.Following his death in 2017, Bechtolsheimer-Kipp inherited a portion of her father's fortune and now has an estimated worth of £2.7bn.
Radovan Vitek —£3.3 bn Vitek holds over 90% of the group's shares, and in 2015, bought Ringo Starr's 200-acre estate in Surrey for £13.5m.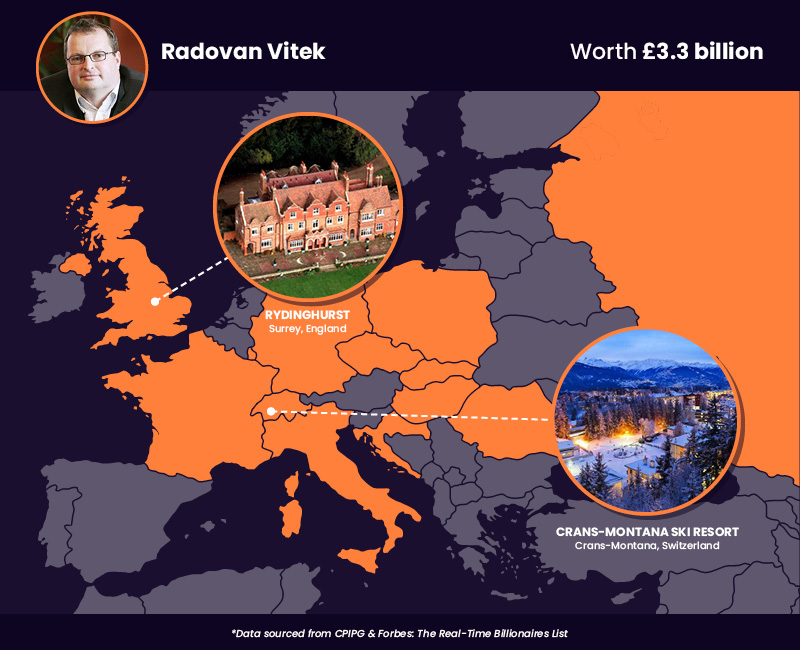 Rene Benko —£3.9bn After dropping out of college to focus on property, Benko went on to found one of Austria's largest privately held real estate corporations.
Since SIGNA's beginnings in 2000, the conglomerate has grown into the media and retail sectors, and last year recorded €7.5bn in revenue.
The brand is well represented in Europe, covering everything from department stores to newspapers.
In 2019, it even acquired New York's Chrysler Building, one of Manhattan's most recognisable skyscrapers, through a joint venture.
Naomi Azrieli and family —£4.5bn The daughter of David Azrieli, an Israeli-Canadian property investor, Naomi Azrieliand sister Danna assumed their father's businesses after his death in 2014.
While Naomi took up a position at the head of CanPro Investments, a real estate development and management company, Danna leads the Azrieli Group.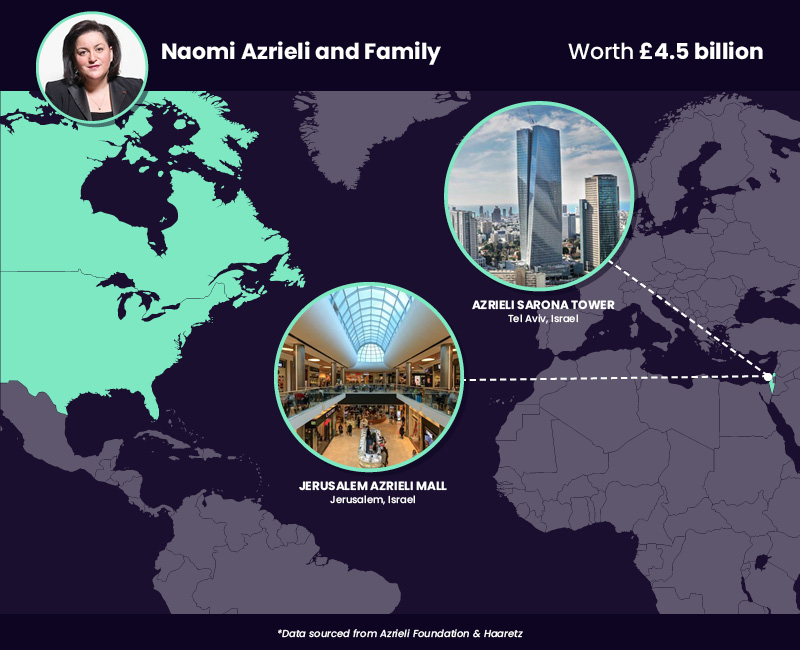 The latter is mainly focused on shopping centres and commercial properties in Israel, with an extensive list of malls and office buildings making its portfolio. The Azrieli Sarona Tower, Israel's tallest building, is one of the family's most notable holdings.
Hugh Grosvenor —£10.1bn Grosvenor, 7th Duke of Westminster, took up ownership of the Grosvenor Group following the death of his father Gerald, 6th Duke of Westminster, in 2016.
The group originated in the 1600s and has since grown into a global property player, developing the retail, office and residential sectors, and even cities as a whole.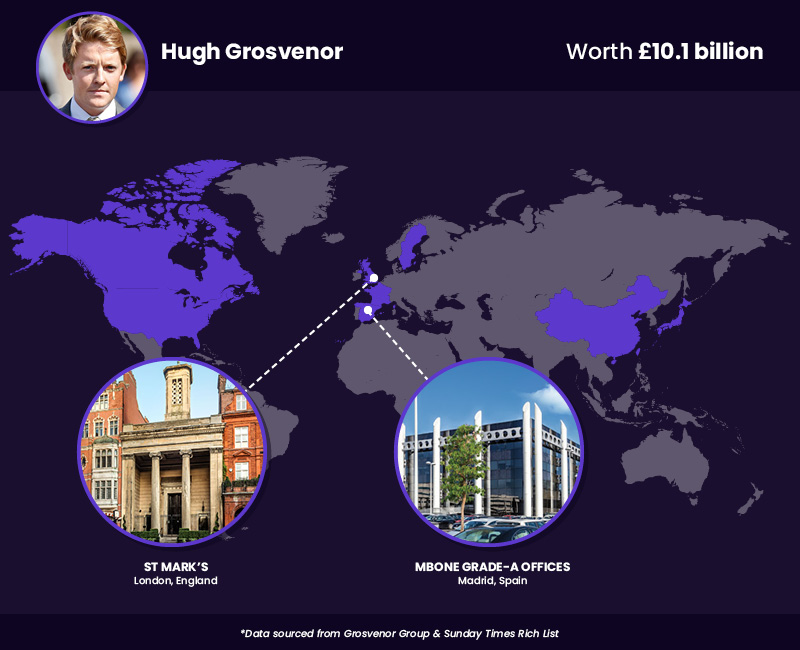 Despite inheriting a large chunk of his father's wealth, and at one time being labelled as the world's richest man under 30, it's said that a lot of his worth is locked in trust funds that are overseen by a board of trustees. He was, however, able to donate £12.5m to aid the UK's coronavirus response.
Donald Bren —£12.5bn Bren's business empire began in the late 50s, when he founded the Bren Company, a Californian housing developer.
In the 70s, he sold the company and then bought it back at a reduced rate following the recession, making a $12m profit.
The proceeds went towards a joint purchase of the Irvine Company, where he is still chairman.
Starting with a 34.3% stake in the company, he became Vice-chair and then majority owner in 1983.
By 1996, he'd bought 100% of shares to take sole ownership.
He's believed to be America's wealthiest property mogul, where the Irvine Company has residential, retail and office space across much of California, Chicago and New York.
Xu Jiayin —£21.8bn Xu Jiayin started out in a cement factory, working shifts between school, and then metal and trading companies after university.
He rose up through the ranks of associate director, director and president, before moving to Guangzhou and founding Evergrande Group, a Chinese property developer, in 1997.
Xu is also owner of Guangzhou Evergrande football club, and has plans to get into electric vehicle manufacture.
The coronavirus pandemic is expected to put a sizeable dent in Xu's fortune, but even if early estimates are accurate, he'd still top the list with over £18bn.
Data was sourced from: Multiplan, Sunway Group, Comer Group, CPIPG, Tschuggen Hotel Group, SIGNA, AzrieliFoundation, Grosvenor Group, Irvine Company, Evergrande Group, Forbes: The Real-Time Billionaires List, Sunday Times Rich List, Haaretz & Sunday Times Rich List.