New analysis has revealed the impact of the property market lockdown between March and May 2020.
Prime London sale prices and rents have dropped as the market slowly reopens, according to LonRes.
Analysis by the property data company found sales prices fell 4.2% during the lockdown period from mid-March to the end of May and rents fell 8.4%.

The number of new sales and rental listings were down 58% and 70% respectively during lockdown compared with a year ago.
There were 22% fewer exchanges between January and May than in the first five months of 2019 and 46% fewer new lets agreed, the research found.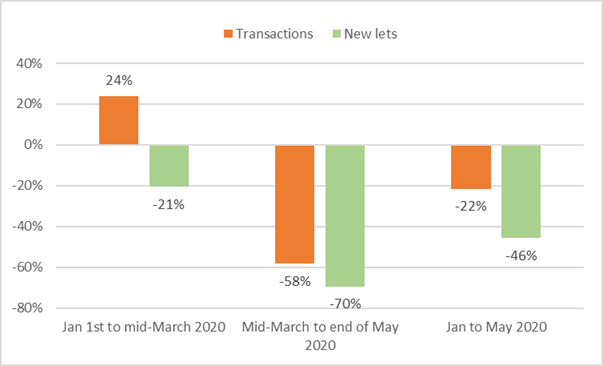 The market is slowly coming back though, with 150% more listings in the second half of May 2020 since the market reopened on May 13th, compared with the first couple of weeks of the month.
But LonRes said volumes at the beginning of June are still 29% below the level they were during the same period a year earlier.
There were also 16% more new lettings instructions than during the same period in 2019, LonRes said.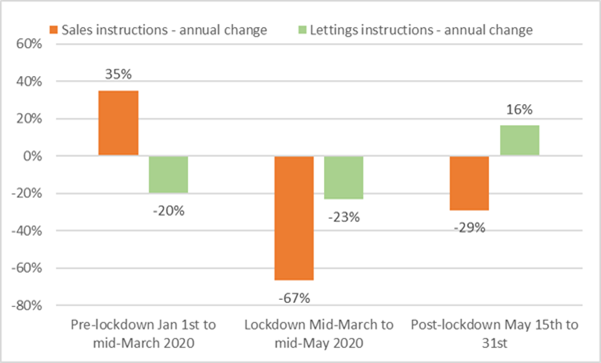 Marcus Dixon, head of research at LonRes, said: "Earlier this year there were some positive signs for the prime London sales market – more homes were reaching the market and transactions and prices were on the rise.
"As the UK locked down we saw some deals progress, but for the majority of buyers and sellers they simply pressed pause on their purchase or listing and waited. "
Dixon said buyers are now returning but it is too early to tell what the impact will be in the short to medium-term.
He added: "Lettings too saw activity drop as the UK locked down.
"New lets agreed over the course of lockdown fell by more than two-thirds.  Looking ahead landlords will be hoping that pent-up demand from tenants will be enough to absorb increased levels of stock currently on the market, if not we could see some further downward pressure on rents in the coming weeks."