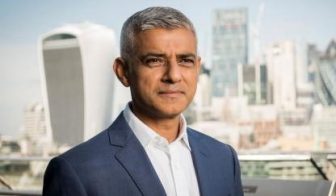 The mayor of London Sadiq Khan has called on the government to do more to protect tenants from unscrupulous landlords while announcing new measures for housing enforcement officers across the capital.
Khan has called on ministers to double the compensation landlords must pay tenants for inadequate or dangerous housing and repeated his call for rent controls to combat spiralling housing costs.
Khan wants the amount that tenants can claim back if their home is not up to scratch doubled, to two years' worth of rent, for the worst properties which pose a risk of death or serious injury.
The mayor has also repeated his call to be given the power to introduce rent controls in London, a demand, which he views as being even more important for tenants struggling with the cost-of-living crisis.
He said: "Every single Londoner deserves a secure, safe and comfortable home. Nearly a fifth of London's private rented accommodation doesn't meet basic standards and it is clear that more needs to be done to support tenants.
"I want to see tougher penalties for rogue operators and this action can only come from the government. Poor housing conditions and exploitative rents have an awful impact on both the physical and mental health of tenants and these actions need to have consequences. With the cost-of-living spiralling, Londoners also need the government to give us the power to bring in rent controls which may's election gave us a clear mandate for.
Khan has also announced the introduction of a new course, Advanced Professional Certificate in Private Sector Housing, which aims to improve conditions in the PRS.
The course is a foundation degree level qualification delivered by the University of Middlesex and accredited by Chartered Institute of Environmental Health.
The aim of the course is to train those with little or no experience in environmental health or private rental housing up to the standard needed to carry out the duties of a private rented sector enforcement officer to tackle rogue landlords.
The mayor's new environmental health qualification is a key part of his 'Better Renting Programme', which aims to build skills and capacity across the capital's PRS enforcement teams. To date, 265 officers have been trained in courses commissioned by the GLA including tenancy sustainment, supporting tenants in domestic abuse cases, and gathering evidence for prosecutions.
Khan added: "This new qualification will give councils across London the workforce and expertise to mediate disputes, enforce standards and crack down on the rogues who give the many honest operators in the sector a bad name."