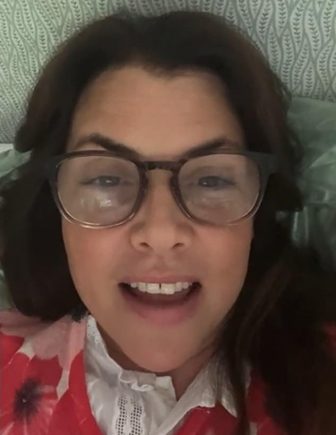 Kirstie Allsopp had to pull out of filming Location, Location, Location after she got into a terrifying accident in a pub in London.
The 52-year-old TV presenter fell down a flight of stairs and told her fans that she was "battered and bruised" because of the accident. She was taken to the hospital in an ambulance after the fall.
"Today is Wednesday, and it's a working day," the Channel 4 explained to fans in a video on Instagram.
She continued: "I should be out filming Location Location Location. Except yesterday, when we were in a pub in Stoke Newington, filming a chat with our lovely house hunters Beth and Rory, I went off to the loo. Unfortunately, I got something wrong and I ended up falling down an entire flight of stairs.
"It was, I think without a doubt, the scariest thing and most painful thing I have ever done in my life and I feel immensely blessed to be lying here in bed and not having broken anything.
"I'm bruised and battered. I went and had an x-ray and a CT scan. And I've been looked over by a lovely doctor."
The TV presenter thanked the paramedics who came and lifted her off the floor and apologised to the crew members who heard her screams in their earpieces during the fall.
The star added that her co-star Phil Spencer will be stepping in for her on the show, saying: 'Hopefully if I am feeling up to it I will Facetime them to give my advice from bed.'
Allsop has been advised by doctors to get plenty of bed rest and her bruises mean that 'sitting or going in the car is out of the question'.
She said: 'Sadly that spa weekend I was taking my sister on is no longer happening, but I am really grateful, to be honest it was quite comic…
'When I was lying with my dress around my waist on the pub floor, I thought, 'Oh my god there is a comic element to it.'
'There were so many people that were so kind and helpful, Bernie from Enfield, Hayley from New York, and you know, you rely on the kindness of strangers when you are in that situation so I am very grateful.'
The accident happened after Spencer returned to work on Location, Location, Location earlier this month after losing both his parents in a car accident.
The presenter, 53, announced last month that his parents David, 89, and Anne, 82, had died in a crash on their family farm in Littlebourne, near Canterbury, Kent, as they were making their way to the pub for some lunch.