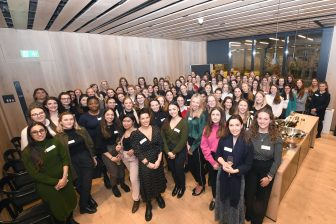 Mentoring Circle, a cross-sector mentoring scheme designed to connect female professionals within the property industry, kicked off its third year on International Women's Day at White City Place.
Vanessa Murray founded Mentoring Circle to increase talent retention and further gender equality at senior leadership level in the property industry. She believes International Women's Day, celebrating the social, economic, cultural, and political achievements of women, was the ideal occasion to celebrate the start of the initiative's third year.
Murray, senior asset manager at Stanhope, commented: "Mentoring Circle proudly represents the core foundations of International Women's Day, working to celebrate and empower women in the property industry.
"Being able to kick off our third year at White City Place is a personal highlight and we are looking forward to working with the latest cohort of mentees."
Murray works with Ceri Moyers, director at Mentoring Circle, to run the initiative every 12 months, involving a dedicated one-to-one mentor/mentee pairing, in-person networking events, guest speaker seminars and a two-day bespoke emerging leadership programme for all mentees accepted onto the scheme.
With over 100 mentees every year having access to more than 125 of the most senior female professionals working in property and construction across the UK, Mentoring Circle provides a platform to nurture and promote young talent, Murray added.