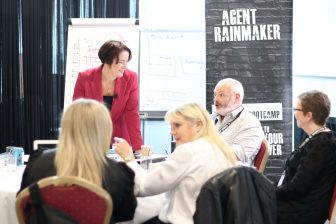 A well-established industry bootcamp, which has helped a number of lettings agents over recent years, has returned a bang.
Agent Rainmaker, an organisation set-up to support those within the lettings industry improve, welcomed agents from across the UK to its latest four-day event – with attendees pushed to their absolute limits in a bid to facilitate metamorphic change.
Individuals were invited to share stories on the struggles they face on a daily basis – from failing to attract landlords and being time-poor to not earning enough and doing too much for very little return.
Founder of Agent Rainmaker and former ARLA President, Sally Lawson, shared with the group a range of strategies all designed to transform profit levels and agency growth, enhance team morale and performance, and re-ignite individuals' passion for their business.
Mindset and empowerment trainer, Tosin Ogunnusi, who specialises in performance improvement through teamwork travelled over from Prague to encourage and inspire agents to fully confront their fears – by literally getting them to break boards and bend concrete bars with their bare hands.
Lawson said: "It was absolutely fantastic to welcome so many agents to our first physical bootcamp in two years, all of whom came along with a burning desire to bring real transformational change to both their businesses and to their lives.
"We launched Agent Rainmaker in 2016 with the sole purpose of tackling head-on the key challenges within our industry and to help lettings agents be more successful, profitable, and happier. So many agents out there are simply doing too much for too little, failing to embrace opportunities to grow, and in doing so – running themselves into the ground.
"Our Bootcamps are specifically designed to provide agents with the tools, techniques, and mentalities to overcome their barriers to success – to ultimately benefit from a committed and motivated team, a profitable and successful business, and freedom that as a business owner they never dreamed possible.  And, the events really do speak for themselves – with many past attendees having generated between £100k and £1million in additional revenue, and having found a real love for their business again as a result."
Agent Rainmaker's Bootcamps are held every three months.