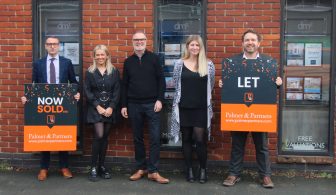 Palmers & Partners, which has offices in Clacton, Colchester, Ipswich, Sudbury, and Suffolk, has completed the acquisition of David Martin Group (DMG) in Colchester.
This is the estate agency's third acquisition in recent years, growing their already extensive portfolio.  They have taken over the sales and letting portfolio of DMG, which was founded 27 years ago.
Moving forward DMG will operate under the name of Palmer & Partners.
The DMG letting team (seen in photo together with John Palmer, MD, Jon Gallop and Paul Devereux, partners) have migrated over with the move ensuring continuity of support for clients.
Palmers & Partners will now have office coverage in West Colchester with the acquisition, working alongside their 'flagship' office in the heart of the city of Colchester.
Palmer & Partners, established in 2004, initially worked from the Colchester office, and as they grew so did their team and offices. The Ipswich office opened in 2007 followed shortly by Clacton.
"The deal ran very smoothly, and all the team are excited to merge systems, procedures, and their expertise between the offices," said a spokesperson for Palmer & Partners. "It has been a pleasure dealing with John Beton, the owner [of DMG], who ran the business very successfully over the last 17 years."