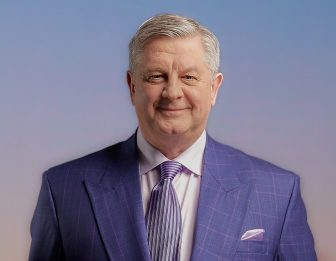 The issues that we've seen over the past year caused by economic uncertainty, the cost-of-living crisis, Covid, and conveyancing delays, are only set to get worse. Much worse. I've never seen anything like it in over 35 years of running an estate agency group.
Yet, despite this, I feel there are plenty of positive opportunities for estate agents to take a breath and recalibrate their businesses. It's just going to take a lot of hard work. So, here are my predictions for 2023.
Transactions will plummet by 37% because of rising interest rates
The Bank of England increased its base rate nine times in 2022, from 0.1% to 3.5%, its highest level in 14 years, way above its official target of 2%. Many predict it will rise to 4.5% by August 2023, inevitably impacting mortgage rates and the cost of borrowing. For those of us who remember the BoE interest rate in double digits in the 80s, it may still seem relatively low, but there's no doubt it will have a considerable effect on the housing market. Transactions in 2021-2022, according to Government data, were actually the highest for 14 years. Having spoken to top economists, I predict transactions will drop by 37% in the first half of 2023, significantly more than the 2008 housing crash during the Northern Rock crisis, even though demand is still strong. Over the last six weeks of 2022, agreed gross sales declined by 28% compared to 2021.
Job losses across the industry
The fall in transactions and anticipated reductions in property prices of between 8% and 12% will inevitably lead to job losses across the sector, with income down and costs rising. It will be a real shock to the industry and I predict that headcount will reduce by as much as 17%. For many on commission, it will be hard making ends meet. The self-employed, particularly, will struggle, though those working from home will have the benefit of lower overheads. Some will take second jobs to get through the most challenging months, or switch career completely.
The strong will continue to get stronger
Last year, I said the strong would get stronger and, looking at their profits at Company House, they sure did. This will continue as they have money in the bank and a buffer to tide them over during the challenging months ahead. There are many with decent sums in their coffers, including Connell's, LSL, Savills UK, Chestertons, Arun and Dexters, which has taken over the crown in London from Foxtons. Connells doesn't seem to have suffered for acquiring Countrywide but we need to see their next set of accounts to understand the detail.
Purplebricks will continue to decline
A year ago I said that Purplebricks would have to reduce headcount and up their fees in order to survive. And guess what, they've had to do just that and are no longer the cheapest agent in some places. No prizes there because the writing has been on the Purplebricks wall for a long time. The big question is what will happen next when they have already burned through so much of their investors' cash. Their share price is barely scraping double figures. Where do they go from here? It feels like their board are dancing round their handbags and are not dealing with the wholesale change needed to their business model. As for launching their financial services division, I don't think they've got enough time left to make it work. It took me £10m and 18 months to get our own financial services up and running in 1999 when we employed 135 mortgage consultants. Other than a strong brand name, they don't have much of a business to sell. At the rate they're going, it will be soon become worthless. I read the new EA experienced team will lift the business … they either believe in miracles or perhaps fairies!
Other internet and hybrid agencies will flounder
I wouldn't be surprised if some of the other internet agencies go the way of Purplebricks. Yopa's losses keep mounting, totalling £28.2m over three years (2019-21), while cash in the bank has been reducing over the same period. Strike, meanwhile, had to go cap in hand to investors to shore up their finances, receiving a £10.7m cash injection in June 2021. What's interesting is the threat that the internet and hybrid agencies just never materialised. If it hasn't happened already, it's never likely to.
Acquisitions will continue apace
When the chips are down, those with money start hunting. We've already seen Leaders Romans taken over by global investment firm Platinum Equity at the beginning of 2022. Leaders Romans had a huge debt mountain and lost £115m over a three-year period (2019-21) – the daddy of all losses. It will be interesting to learn in their next set of accounts whether their original investors took a bath and wrote off the debt or whether they're still saddled with it. Last year, I suggested we all keep an eye on the Lomond Group, which was on the acquisition trail. Interestingly, its rumoured acquisition of Chestertons never materialised. Instead, the private-equity backed company has gone on a spending spree in the north of England and Scotland, bolstering its lettings portfolio in the process. Watch this space, I predict there'll be a lot of movement in ownership across the sector, especially where owners have had enough and have decided it's time to get out. Watch out for more European and US businesses entering the UK market, though if they look at the fortunes of Keller Williams, they may think twice.
Estate agents will have to work harder & probably longer hours
Estate agents will have to work smarter and harder, but it doesn't all have to be doom and gloom. Rising to the challenge will bring its own rewards and every sale will be all the sweeter. The strongest estate agents will be those that can demonstrate they can get the best price for their sellers and offer the best customer service – and this means ensuring their own personal presentation skills are top notch. At the same time, they need to be winning the battle for 5-star Google reviews in their area, as this will translate to higher search engine rankings. There are still sales to be had so it's a case of working doubly hard to win market share.
A game of two halves… back your 'Messi's'
Despite the challenges we're facing as a sector, we will get through this. It's different to previous housing market slumps because the demand for property is still there. By late summer, we should see the market bounce back and I confidently predict that during the second half of the year we'll all be in a much happier place, as we start making up for lost time. Wishing you a happy and prosperous 2023!
Paul Smith is chief executive officer of Spicerhaart