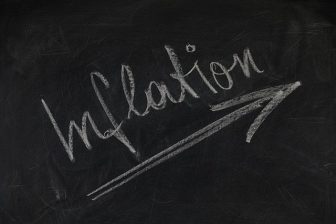 The recent surge in inflation could deal a double blow to the housing market,  the National Association Of Property Buyers (NAPB) predicts.
UK inflation has risen to a near-30-year high of 5.4%, driven higher by rising prices for food, furniture, clothes and housing costs.
According to the latest data from the Office for National Statistics (ONS), the consumer price index (CPI) measure of inflation rose to 5.4%, the highest since March 1992 when it was 7.1%.
Jonathan Rolande, from the NAPB, said the situation could be a double-whammy for the housing market.
He explained: "It could deal a double blow to the housing market. Firstly, people will have a lot less in their pockets to spend. The rate at which prices are rising is at its highest since early 1992 thanks to increased food and fuel costs around the world.
"In the next few months energy bills could rise by another 50% once the price cap is removed. Potential first-time property buyers won't feel confident about taking a new financial commitment and will adopt a 'wait and see' approach, starving the market of buyers."
The surge in inflation deepens the country's cost of living crisis, and heaps pressure on the Bank of England to raise interest rates at its next meeting in February, following December's hike, and this is naturally a concern for homebuyers and many existing homeowners with a mortgage.
Rolande continued: "The second blow could come from The Bank of England. They have limited ways of pushing down inflation and will have to resort to increasing interest rates as a way of leaving less money in people's pockets. If they spend less, inflation will fall. The trouble is that these price rises aren't just on consumer goods that are a seen as a luxury – they are actual living expenses, many of which are simply unavoidable – who'd want to choose between food or water, heat or light?
"So interest rates could rise but inflation may not be curbed. Might that lead to even higher rates? For the millions with a mortgage – or thinking about getting one – that could spell disaster. We need to watch these next three months very carefully."