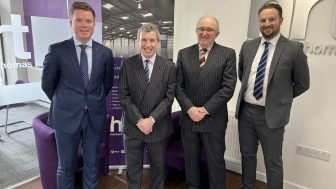 Herbert R Thomas in South Wales has merged with Rawlins and Madley with a view to increasing market share.
Herbert R Thomas, established in 1926 specifically to provide professional advice to the agricultural and rural community of Glamorgan – a role it continues to provide to this day – currently has four branches.
Herbert R Thomas offers a dedicated residential sales, rental and rural departments, along with a commercial department based in Cardiff which operates principally within South Wales.
Rawlins and Madley, which was established in 1991, specialises in the sale, acquisition and appraisal of residential land and development opportunities throughout South Wales.
Jeremy Rawlins and Paul Madley have more than 80 years combined experience as chartered surveyors operating in South Wales. They will join Herbert R Thomas as consultants and will be operating principally from its Cardiff office supported by directors James Mordecai and Matthew Wright.
Madley said: "We have always enjoyed a particularly good relationship with the directors of Herbert R Thomas and there is a significant degree of synergy between our two practices.
"The ever-increasing time that it takes to bring planning and development schemes to fruition has caused us to think about the succession process, and as much as we would like to, we cannot go on forever. The merger with Herbert R Thomas ensures continuity of a professional service for all our existing and future clients."
Rawlins commented: "We are excited about the opportunity that this merger presents and wish to assure all our clients that both Paul and I will continue to look after your interests, and there will be no noticeable change to the service we provide."
Herbert R Thomas director James Mordecai added: "I have had the pleasure of working jointly with Jeremy and Paul on several occasions and have always been impressed with their in-depth market knowledge and professionalism. I'm delighted to welcome them to our Cardiff team."