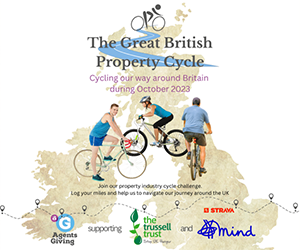 The Agents Giving charity has launched an industry wide charity event to take place in October – The Great British Property Cycle.
This event is for everyone to take part in throughout the month of October, and you can cycle in your own time. Either hop on your road bike, mountain bike or static bike in your front room or office and ride any mileage you choose.
Riders will raise their own sponsorship – there's no minimum amount, just whatever they can manage, and this can be done via the Just Giving fundraising page – which is on the sign-up page for the event (see below).
Clock your mileage on Strava [the internet service for tracking physical exercise which incorporates social network features] and see if collectively we can all make our way around the British Isles.
Everyone can take part in this industry wide event to help raise money for charity. The funds raised will be split three ways: to MIND; The Trussell Trust; and the Agents Giving Grant Fund – this fund exists to give agents and suppliers to the industry grants towards their fundraising costs so more of the money they raise goes directly to their chosen charity.
You can ride on your own, with family, friends, colleagues – this is YOUR challenge for any level of cycling ability even those who haven't been on a bike for years!
It's all about taking part, having fun, get moving and fundraising for some great causes. You can cycle around your village or town, office to office relays or ride in your front room watching TV – the choice is yours.
You can help make a BIG difference this October and see how many miles we as an industry can clock up on as we travel round the UK.