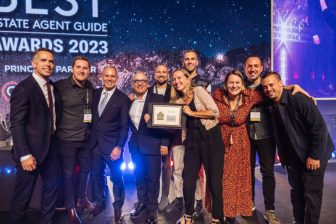 An estate agent has been awarded more than £30,000 in compensation after a court upheld his claim of unfair dismissal.
Chris Williams, described as a 'conscientious and diligent employee', headed up Stow Brothers' property management department.
The court heard that he spent four 'relatively happy years' at the east London estate agency, before the working relationship between Williams and his employers deteriorated.
In May 2019, a tenant was permitted to move into a property without the necessary paperwork and did not pay rent, forcing the agency to compensate the landlord.
Company director Andrew Goad instructed Williams to 'create' the missing paperwork required to make an insurance claim covering the cost of this compensation but he refused, the tribunal heard.
Over the next 12 months, Goad sought to 'make life difficult for Mr Williams, criticising him in front of others and portraying him as incompetent.'
During this period, Williams claims that he was the only employee not given a pay rise and he claimed his bosses deliberately did not invite him to an awards ceremony.
When Williams signed off sick from work with stress in February 2020, his departure was nothing 'other than welcome' to his boss, the tribunal found.
He was then placed on furlough, during the first lockdown, and was the only employee who remained under the scheme by the end of the year.
In an email sent during this period, Goad wrote 'this employee's time is up' and that he was looking to 'move forward' without him.
He also wrote: 'We always knew it would be tricky to pin him (Williams) down on something.
'Let's hope the fear that he might have to return to the office and face up to his colleagues is enough for him to buckle.'
At the end of 2020, Williams was subjected to disciplinary hearings, after being accused of deleting emails from his computer.
The panel found this was a 'false trail' designed to create a pretence for dismissal and described a disciplinary hearing as an 'ambush'.
Williams also accused his bosses of being homophobic when they made comments about whether a colleague was safe sharing a room with him on a staff Christmas trip to Paris in 2019.
Similar jibes led to Williams pulling out of a trip to Barcelona in 2017, the tribunal was told.
In January 2020, Goad responded to a meeting request with 'I'm free', in reference to the theatrically camp character Mr Humphries in the classic 70s sitcom Are You Being Served?.
While the panel found that all these comments were 'naturally offensive', they determined Williams was discriminated against for his refusal to do as Goad had asked in 2019 and not because of his sexuality.
Williams sued his employers for unfair dismissal after he was sacked in February 2021, workplace harassment and discrimination on the grounds of sexual orientation.
The tribunal dismissed the discrimination claims but upheld his claim of unfair dismissal and awarded him a total of £30,891 in compensation.