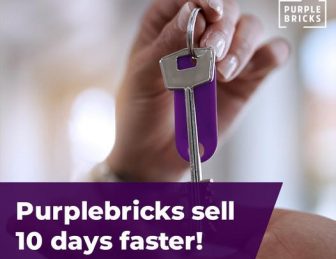 Purplebricks claims to sell residential properties on average 10 days faster than its competitors.
The online estate agency, which was acquired by Strike earlier this year, for the token sum of £1, has posted an advert across various social media platforms, particularly Facebook, that states 'Purplebricks sell 10 days faster!'.
But the claim made by Purplebricks with its latest advert, which first appeared online a few weeks ago, has been questioned by a number of online users, including many existing clients of the company; too many comments to mention.
The claim from Purplebricks that it can sell properties much faster than its competitor agents is a bold one, especially given the current state of the property sales market. But what is this assertion based on?
"This statement is based on data from TwentyEA, the most comprehensive property and home mover databases in the UK," a spokesperson for Purplebricks told EYE.
"The time to sale agreed is measured by the lag in days between the instruction date and the first SSTC date," the spokesperson added.
However, it transpires that all first SSTC dates relate to 2022, when the sales market was booming.
The information provided by the online estate agency includes the following:
+ Data collated on 13th December 2022, covers first SSTC dates between 1st January 2022 and 12th December 2022
+ Data showed the average time it takes Purplebricks to agree the first sale on a UK property that they have instructed (34 days) versus the average for all other UK estate agent brands in 2022 (44 days)
+ Instruction dates and sale agreed dates are based on whole of market data from TwentyEA
+ To substantiate this statement, between 01/01/2022 and 12/12/2022, TwentyEA saw 1.508 million new instructions for sale and 1.193 million sales agreed, of which 952,124 were the first sale agreed on a property
We asked the company if 'providing old data from last year, when the sales market was buoyant, is misleading, given that the date range is not provided in the advert, and market conditions have changed this year'.
But the company spokesperson insisted that "the data is the most recent we hold from research conducted by independent industry analysts".
When we again questioned the accuracy of the data, and suggested it could be somewhat misleading without showing the date range, the online estate agency declined to comment further.
Do you think the data offered by the company is misleading?